Beer Brined Chicken Wings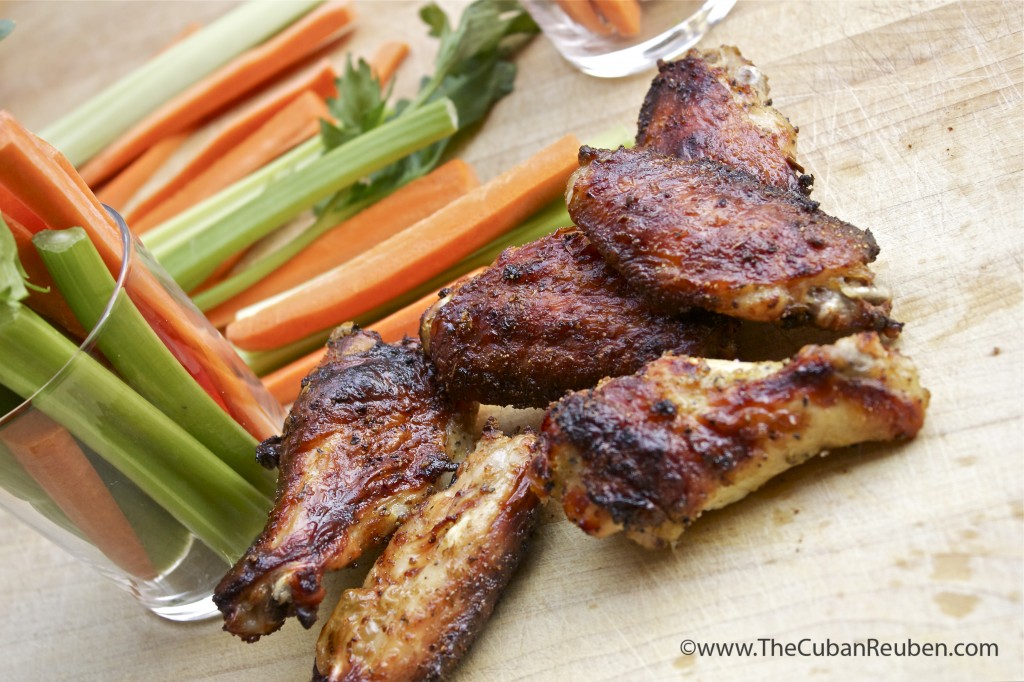 Author:
TheCubanReuben.com
2 cans of your favorite beer
1 cup water
¼ cup kosher salt
¼ cup honey
1 lemon, zested and halved (zest separated)
5 cloves of garlic, slightly smashed
fresh ground black pepper
10-12 whole chicken wings (with drumettes)
1 tsp of the reserved lemon zest
1 tsp orange zest
1 tsp garlic powder
1 tsp onion powder
1 tsp cumin
1 tsp oregano
1 tsp fresh ground pepper
1 tsp baking soda
In a large pot with a lid, combine beer, water, kosher salt, honey, lemon halves, garlic, and grind some fresh black pepper. Stir to mix well. Heat until the salt and honey have dissolved. Bring to room temperature (Or you can cheat, and speed up the process by covering the pot, and adding it to the fridge).
Using a sharp knife, carefully separate the flats from the drumettes in the chicken wings. Add the wing pieces to the cooled brine mixture, cover, and refrigerate for as little as 3 hours and up to overnight.
Remove the wings from the liquid, and dry using paper towels.
Mix together all the ingredients of the dry rub, and sprinkle on the wings. Massage the dry rub into the wings, making sure to thoroughly coat them.
Preheat the oven to 400 degrees, and place the rack on the top level (closest to broiler).
Spray a broiler pan (or make your own by inserting a baking rack into a rimmed baking pan) with non-stick cooking spray, and arrange wings in one layer, making sure the wings are not touching each other.
Bake for 15 minutes, then flip wings over, and bake another 15 minutes.
Flip the wings over, and turn on the broiler setting. Broil on high for 5 minutes, flip wings, and broil other side for 5 more minutes, or until the wings are browned and fully-cooked through.
Serve immediately.
Recipe by
The Cuban Reuben
at http://thecubanreuben.com/beer-brined-chicken-wings/