Dark Chocolate Hazelnut Mandel Bread (Passover)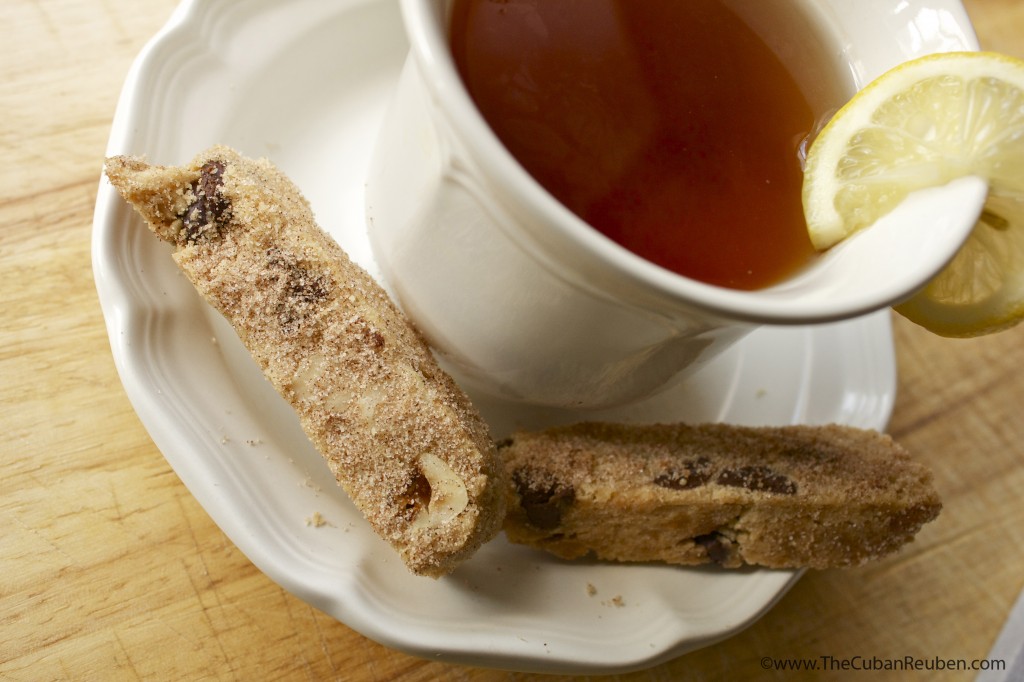 Author:
TheCubanReuben.com
2¾ cups matzoh cake flour
¾ cups potato starch
1 cup, plus 4 tbs sugar
1½ cup vegetable oil
3 eggs
1 tsp vanilla
dash of salt
1 cup chopped hazelnuts
1 cup dark chocolate chips
1 tsp cinnamon
Preheat oven to 350.
In a small bowl, mix cinnamon with 4 tbs sugar, and set aside.
In a medium bowl, sift together flour, starch and salt. In a separate bowl, mix together with a fork the oil, 1 cup of sugar, eggs, and vanilla. Add one cup at a time of the flour mixture until just combined.
Fold in the chocolate chips and hazelnuts.
Separate the dough into 3 balls. Spread each ball into an oval on a parchment-lined baking sheet. Sprinkle dough with half of the cinnamon sugar mixture.
Bake for 30-35 minutes. After baking, and while they are still a little bit hot, slice into ½ to ¾ inch wide pieces.
Turn pieces over on sides, and sprinkle again with the rest of the cinnamon sugar mixture.
Lower the oven temperature to 200 and bake again for 10-15 minutes. Cool before serving.
Recipe by
The Cuban Reuben
at http://thecubanreuben.com/chocolate-chip-hazelnut-mandel-bread/