Sweet Potato Latkes with Autumn Spiced Applesauce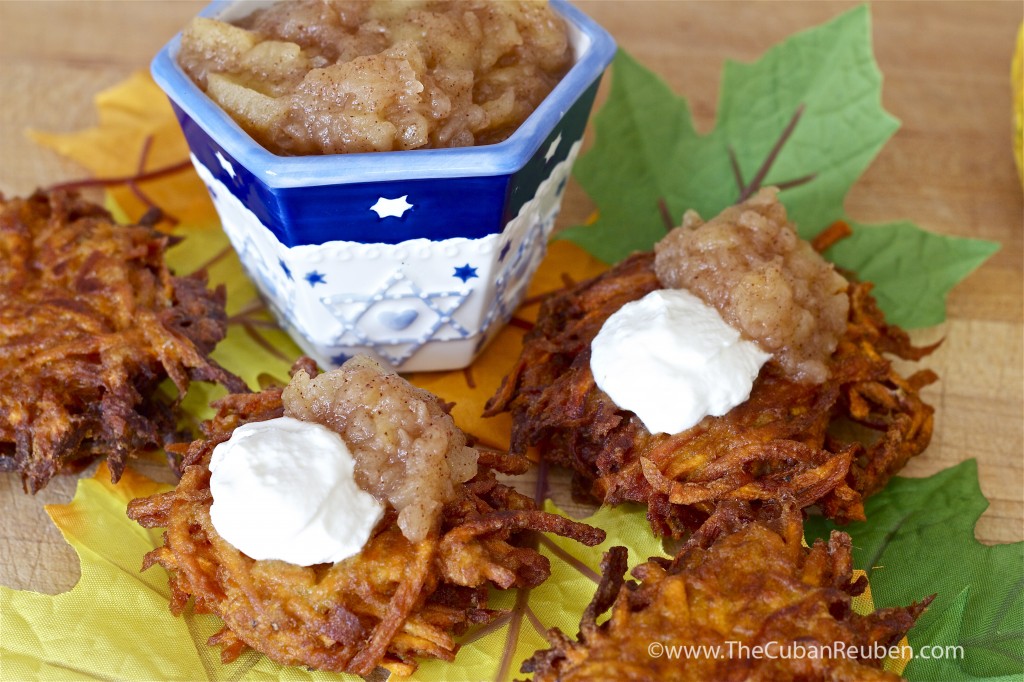 Author:
TheCubanReuben.com
8 various types of apples (I like gala, fuji, honeycrisp, and pink ladies)
1 Tbs of fresh squeezed lemon juice
½ tsp ground allspice
½ tsp powdered ginger
½ tsp ground nutmeg
1 tsp cinnamon
1 tsp vanilla extract
1 tbs honey
pinch of kosher salt
2 Garnet sweet potatoes, peeled
1 small onion
1 clove garlic
2 eggs, beaten
3-5 Tbs all purpose flour
1 tsp baking powder
salt and pepper to taste
canola or vegetable oil for frying
Peel, core, and chop the apples, and place them in a large microwave-safe bowl. Add the following ingredients, and toss to coat.
Cover the bowl with plastic wrap, and pierce a few holes using a fork.
Microwave on high for 7 minutes, or until apples are soft.
Using oven mitts, carefully remove the bowl from the microwave, and uncover. Using a potato masher, mash the apples to desired applesauce consistency. Serve warm or chilled.
Grate the potatoes. Place the grated potatoes in a cheesecloth or thin kitchen towel, and squeeze out the starchy liquid.
Place the onion and garlic in the food processor, and chop until very small. Mix the onion mixture and the potatoes.
Add the eggs, salt, pepper, and baking powder. Add the flour until it creates a slightly thick batter around the shredded potatoes.
Heat the oil in a pan over medium heat. Add a spoonful of the batter at a time, careful not to overcrowd the pan. Fry for about 2-3 minutes. Flip the latkes, so they brown on the other side, and fry for another 2 minutes or until browned. Try one at first to see if the seasoning is right. If it is well-seasoned, continue frying the rest of the latkes.
This recipe is very easily halved or doubled depending on the number of guests you anticipate.
Recipe by
The Cuban Reuben
at http://thecubanreuben.com/sweet-potato-latkes/