Pear and Gorgonzola Pizza with Easy Arugua Salad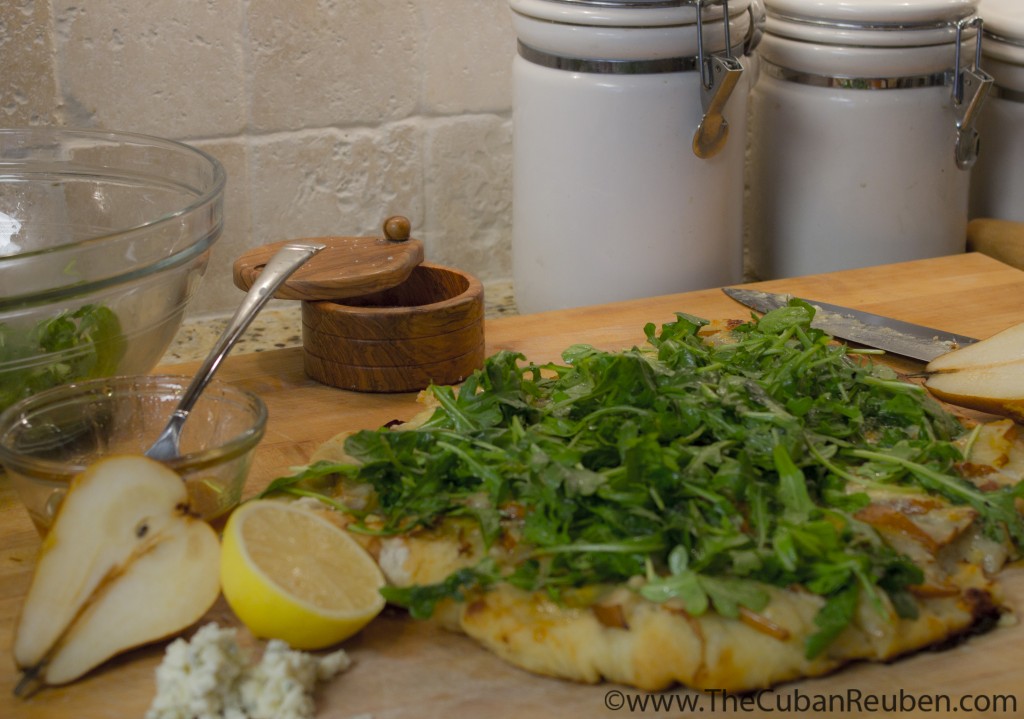 Author:
TheCubanReuben.com
1 prepackaged pizza dough
½ cup mascarpone cheese, softened
1 bosc pear, seeded and sliced
½ cup crumbled gorgonzola cheese
1 Tbs honey
2 cups arugula leaves
1 lemon, juiced
extra virgin olive oil
kosher salt and freshly ground pepper
Preheat oven to 450 degrees.
Roll out your pizza dough on a sheet of parchment paper, and spread softened mascarpone cheese on top. Layer on the pear slices, and sprinkle on the crumbles of gorgonzola cheese. Drizzle honey on top. Transfer the pizza to the oven, and bake for 10-12 minutes. (*Note: If using a pizza stone, transfer the parchment paper directly to the oven. Otherwise, transfer the parchment paper carrying the pizza to a baking sheet, and then put in oven.)
Meanwhile, in a small bowl, add arugula, and dress with lemon juice, olive oil, salt and pepper. Toss to coat.
Once the pizza is browned and bubbly, remove from oven, and let rest for 2 minutes.
Slice the pizza, and then top with the dressed arugula.
Serve and enjoy!
Recipe by
The Cuban Reuben
at http://thecubanreuben.com/pear-and-gorgonzola-pizza/