Herb and Cheese Cherry Tomato Bites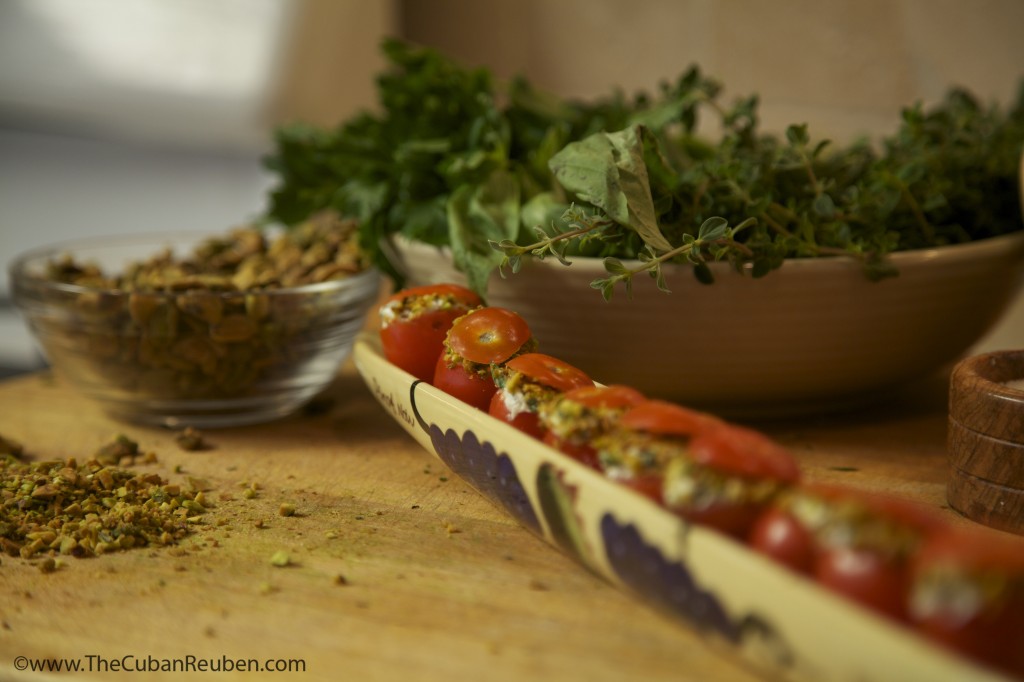 Author:
TheCubanReuben.com
1-2 Tbs. fresh Italian parsley
1-2 Tbs. fresh basil leaves
1 Tbs. fresh oregano leaves
2 oz goat cheese
¼ cup cream cheese
Freshly ground black pepper
1 pint fresh cherry tomatoes
3 Tbs. chopped pistachios (optional)
Chop the parsley, basil, and oregano, and place in a small bowl. Add the goat cheese, cream cheese, and freshly ground pepper, and stir to combine. Put the cheese/herb mixture in a small ziptop plastic bag, and set aside.
Cut off the tops of the cherry tomatoes, and hallow out the main part (careful not to puncture the skin).
Cut the tip off the plastic bag with the cheese mixture, and pipe the filling into the hallowed tomatoes,
Roll the cheese-exposed part of the tomato in the pistachios, add the top of the tomato back on, and place on platter.
Serve or refrigerate for later.
Recipe by
The Cuban Reuben
at http://thecubanreuben.com/tomato-bites/