Grilled Salmon Filet with Greek-style Couscous Salad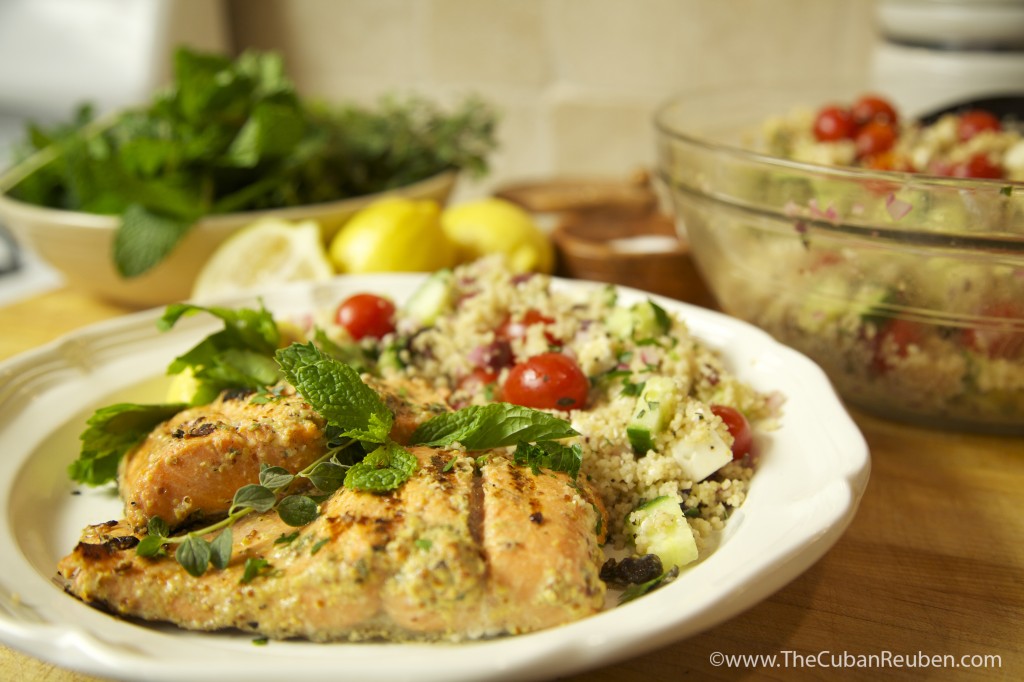 Author:
TheCubanReuben.com
½ red onion, chopped
¼ cup red wine vinegar
1¼ cup low sodium chicken stock
3 Tbs extra virgin olive oil, divided
1 cup whole wheat couscous
11/2 cup diced seedless cucumber
2 Tbs. fresh oregano, minced
2 Tbs. fresh mint, minced
1 pint grape tomatoes
1 cup feta cheese, diced
½ cup pitted kalamata olives, chopped
freshly ground black pepper and Kosher salt to taste
2 salmon filets
2 Tbs. stone ground dijon mustard
2 cloves garlic, finely minced
1 Tbs. fresh oregano, minced
2 lemons, divided
1 Tbs. olive oil
Freshly ground black pepper and kosher salt
*Italian parsley, chopped (optional)
Place red onions in a small bowl, and cover with red wine vinegar. Set aside to soak.
In a small saucepan, bring chicken stock and 1 Tbs. olive oil to a rapid boil. Add couscous, stir, cover, and turn off the heat. Set aside for 5 minutes.
Meanwhile, in a large bowl, combine cucumber, oregano, mint, tomatoes, cheese, olives, salt and pepper.
Once the couscous has steamed and absorbed all the liquid, fluff the couscous and add to the bowl with the other ingredients.
Stir in the red onions and a few teaspoons of the red wine vinegar. Add remainder of the olive oil, and stir to combine ingredients. Serve immediately, or refrigerate for later.
Place filets in a large plastic bag. Add in mustard, garlic, oregano, the juice and zest of 1 lemon, and the olive oil. Close the bag, and massage all the ingredients into the fish. Set aside to marinate for 30 minutes.
Heat your grill (or grill pan) to medium/high heat, spray with cooking spray, and grill fish, skin side down first, for 3 minutes per side.
Place the fish on plate, and garnish with Italian parsley and fresh lemon juice.
Serve immediately or refrigerate for later.
Recipe by
The Cuban Reuben
at http://thecubanreuben.com/grilled-salmon-and-couscous-salad/