Ropa Vieja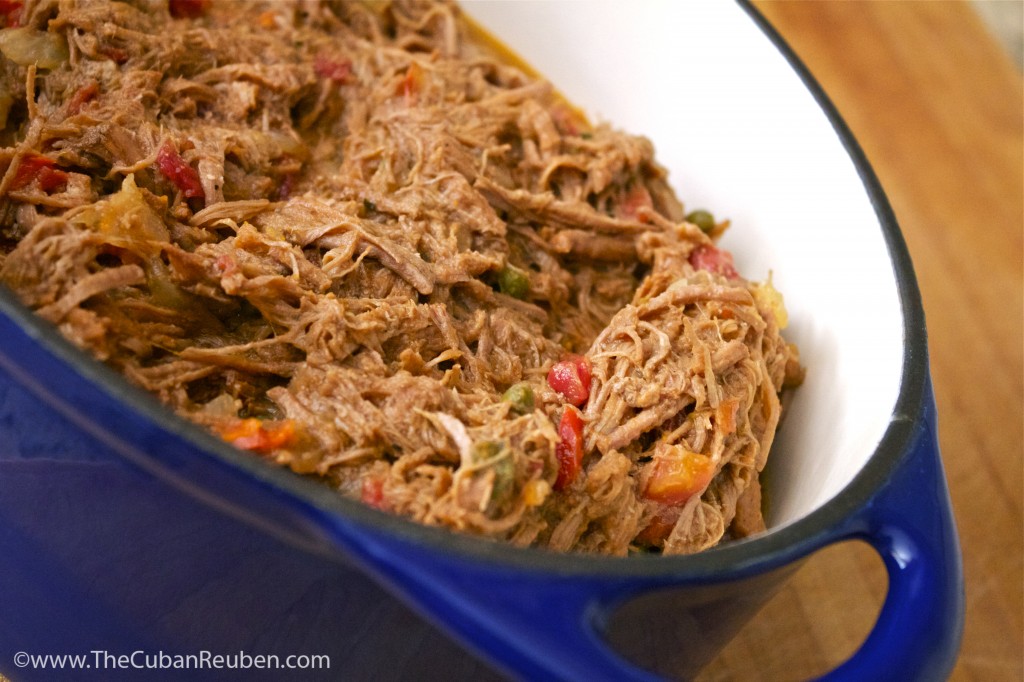 Author:
TheCubanReuben.com
5-7 lbs. Brisket, trimmed of most visible fat
2 onions, divided
6 cloves of garlic, divided
2 large red bell peppers, divided
2 bay leaves, divided
4 cups beef stock
3 tsp. Olive oil
1 Tbs dried oregano
1 Tbs ground cumin
1 14 oz can diced tomatoes
1 8 oz can tomato sauce
10 stuffed green olives, sliced in thin rounds
2 Tbs capers, plus 1 Tbs. of the brine.
Salt and Pepper to taste
Cut your brisket into 2-inch wide strips.
The night before you want to serve, add the brisket, 1 onion, roughly chopped, 2 whole cloves of garlic, ½ a bell pepper, 1 bay leaf, and beef stock to a slow-cooker, and set to cook on low for 6-7 hours.
Remove the beef and set aside. Once the beef is cool enough to be handled, use 2 forks to shred the beef.
Strain the cooking liquid, and reserve for later use in a medium bowl. Cover the bowl with plastic wrap, and refrigerate long enough for the fat to solidify on top (about 20-30 minutes). Skim the fat from the liquid.
Discard the rest of the contents from the slow cooker.
Meanwhile, finely dice the remainder of the onions and half of the remaining bell pepper. The rest of the bell pepper should be sliced in short, thin slices.
Mince the remaining garlic.
Heat a large pot (dutch oven style) over medium-high heat. Add olive oil.
Add the diced onions and both diced and sliced bell peppers, and cook for 5-10 minutes, or until onions become translucent. Add the garlic, and cook for 2 more minutes.
Add the shredded beef to the pot, as well as ½ of the now-skimmed stock, the oregano, the cumin, the diced tomatoes, and the tomato sauce. Stir to combine.
Lower the heat, cover the pot, and simmer for 30 minutes, or until liquid reduces and thickens a bit.
Add the olives, brine, and capers, and cook for 15 more minutes. Add salt and pepper to taste.
Leave simmering on low on the stove until ready to serve.
Serve with white rice.