Citrus and Herb Chicken A La Jenny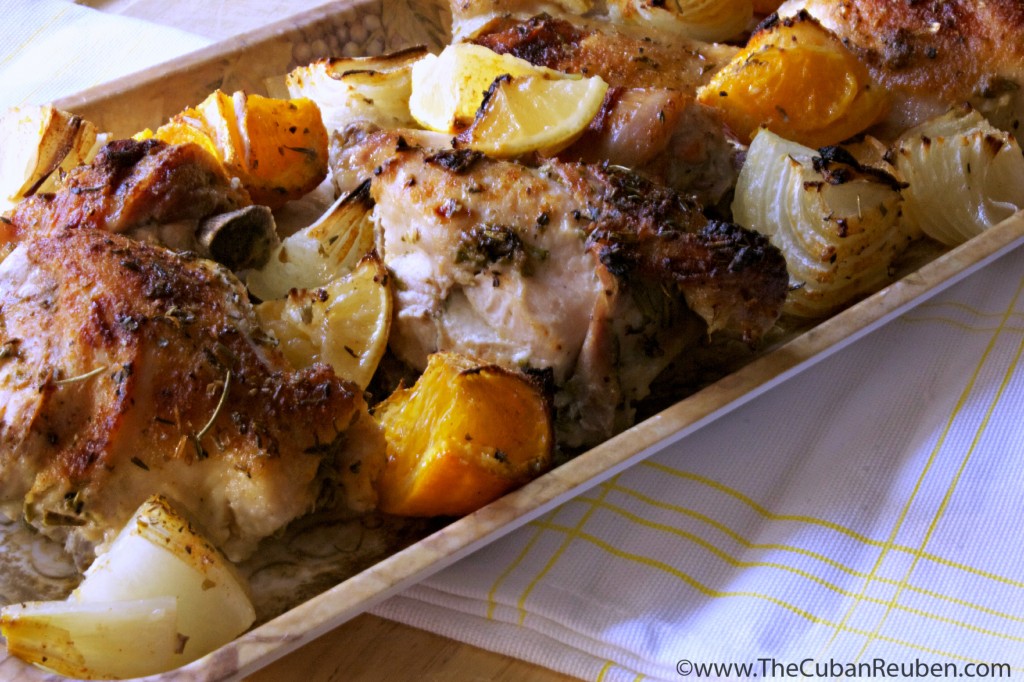 Author:
TheCubanReuben.com
1 4 lbs. chicken, cut into pieces (or 4 lbs. of chicken pieces)
5 cloves garlic, finely minced
2 sprigs rosemary, leaves removed and finely minced
2 Tbs olive oil
Kosher Salt
Fresh ground Black Pepper
1 large onion, cut 8 sections
1 large orange, cut into 8 sections
1 lemon, cut into 8 sections
Preheat oven to 400 degrees.
Combine garlic, rosemary, olive oil, salt and pepper, and make a paste. Rub the paste on the chicken pieces, massaging and making sure to get it under the skin.
In a large baking dish, arrange the chicken in a single layer. Add the onion, lemon, and orange pieces, filling in any holes between the chicken pieces, and squeezing the juice from the citrus onto the chicken as you go.
Bake for 50 minutes-1hour, or until chicken is browned and cooked through.
Recipe by
The Cuban Reuben
at http://thecubanreuben.com/citrus-and-herb-chicken/