Spaghetti with Salsa Cruda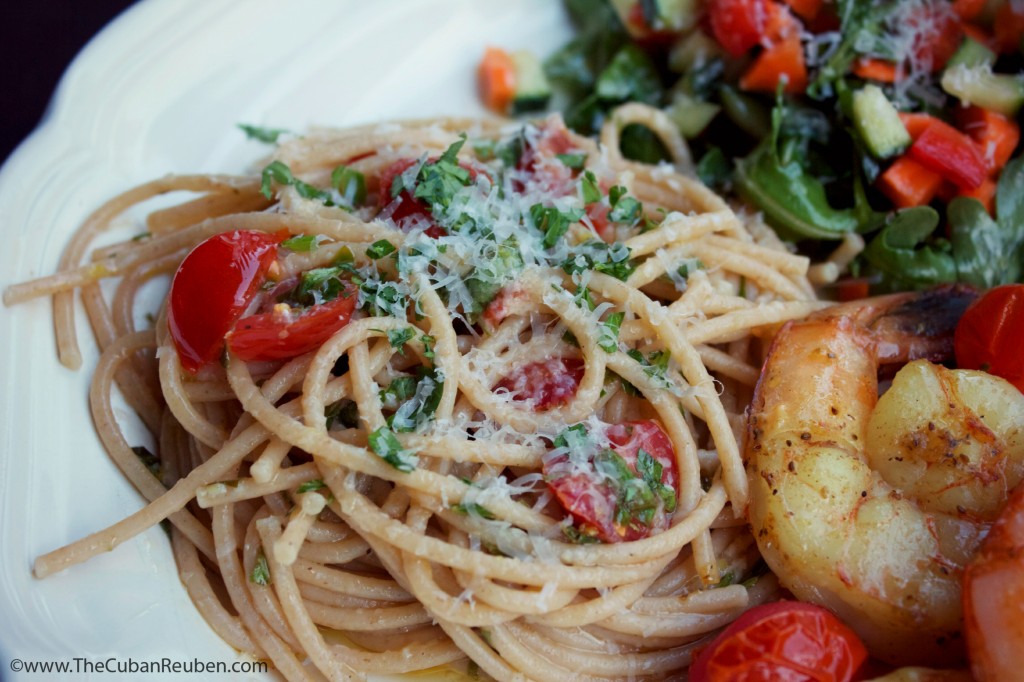 Author:
TheCubanReuben.com
¼ Lbs. dried whole wheat spaghetti
1 lemon, juiced and zested
1 large clove of garlic, finely minced
3 Tbs. chopped fresh Italian Parsley
3 Tbs. chopped fresh basil
1 cup cherry or grape tomatoes, roughly chopped
3 Tbs. extra virgin olive oil
Kosher salt
Freshly ground black pepper
Freshly grated parmesan cheese to taste
In a large pot of salted boiling water, cook spaghetti according to the directions on the package, or until pasta is al dente.
In a separate bowl, combine the juice and zest of the lemon, garlic, parsley, basil, tomatoes, olive oil, salt and pepper, and stir to combine.
Once pasta is cooked to al dente, reserve 1 cup of the pasta water, and drain the pasta. Add to the bowl with the salsa cruda, and use kitchen tongs to incorporate the sauce into the pasta. If needed, add 1 tablespoon of the pasta water at a time to the sauce.
Top with freshly grated parmesan, and serve.
Recipe by
The Cuban Reuben
at http://thecubanreuben.com/spaghetti-with-salsa-cruda/