Baked Salmon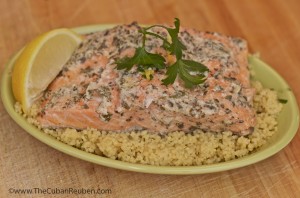 2 cloves garlic, finely minced
2 lemons, juiced and zested
¼ cup white wine
3 TBS olive oil
1 Tbs basil
2 Tbs fresh Italian parsley, chopped
Salt and Pepper to taste
4 6oz fillets of Alaskan Salmon
In a resealable plastic bag, combine first 7 ingredients (garlic to salt/pepper). Close the bag, and massage it, so the ingredients mix to form a marinade.
Place the salmon filets in the bag, and refrigerate for an hour.
Preheat oven to 375 degrees.
Make a packet using tinfoil, and place each salmon filet plus a little bit of the marinade in its own packet. Seal tightly.
Place the foil packets on a baking sheet, and bake for 20 minutes, or until fish is flaky.
Serve immediately.