Roasted Broccoli Florets with Lemon Garlic Matzo Crumbs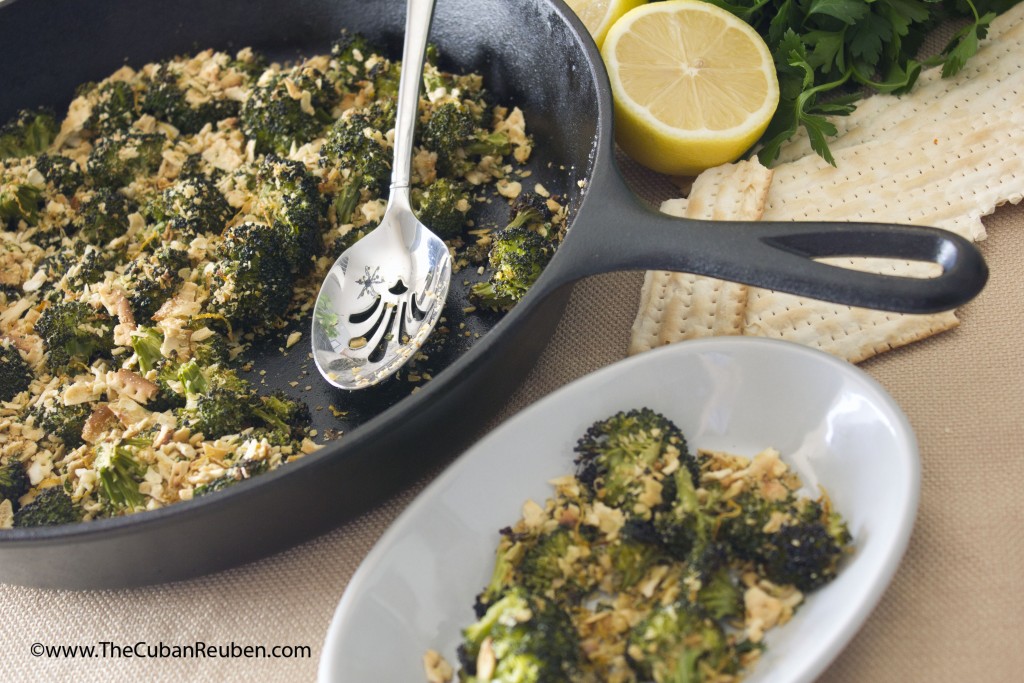 Author:
TheCubanReuben.com
1 lb. broccoli crown, cut into florets
2 Tbs. olive oil, separated
kosher salt and freshly ground black pepper
2 sheets of Yehuda matzo, or 1 cup matzo farfel
4 cloves of garlic, finely minced
1 large lemon, zest reserved
1 Tbs. freshly squeezed lemon juice (from that lemon you just zested)
1 Tbs. Italian parsley, chopped
Preheat oven to 375.
Drizzle 1 Tbs. of olive oil over the broccoli florets and sprinkle with salt and pepper to
taste. Toss to coat, and lay flat and in a single layer on a baking dish or cast-iron skillet.
Roast in oven for 15 minutes.
Meanwhile, place the matzo sheets in a plastic bag, seal the bag with as little air in it as
possible, and use a rolling pin to crush the sheets into small pieces. (*Note: this is a fun
step for kids to help.)
Once the matzo is crushed into crumbs, drizzle with 1 Tbs. olive oil, add the garlic,
lemon zest, and Italian parsley. Reseal the bag, and shake to combine mixture.
Remove the broccoli from the oven, drizzle with lemon juice, and sprinkle the matzo
crumb mixture on top.
Return to the oven for 15 minutes, or until matzo crumbs are golden brown and broccoli
is tender.
Serve immediately.
Recipe by
The Cuban Reuben
at http://thecubanreuben.com/roasted-broccoli-florets-with-lemon-garlic-matzo-crumbs-kicking-off-passover-prep-with-a-bang/