Chicken Noodle Soup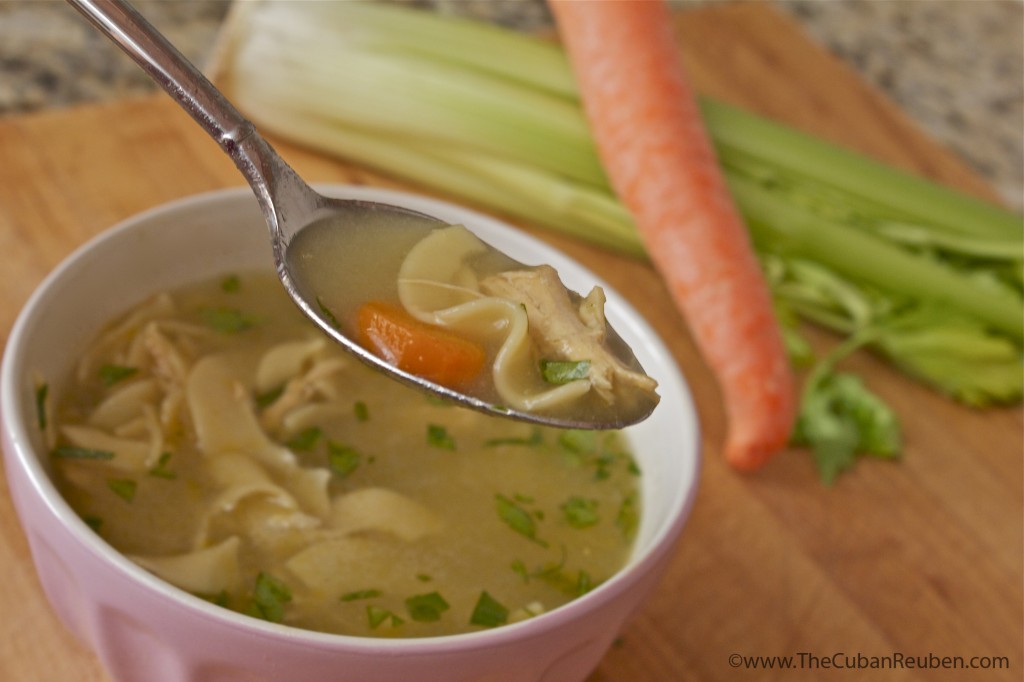 Author:
TheCubanReuben.com
1 large onion, diced
2 carrots, peeled and diced
2 stalks of celery, diced
4 cloves of garlic, finely minced
1 Tbs olive oil
3 chicken breasts (can be boneless or with bone)
1 Tbs seasoning blend (I prefer salt-free Greek seasoning)
4 cups low sodium chicken broth
2 cups water
2 parsnips, peeled and left whole
2 dried bay leaves
salt and pepper to taste
1 package of egg noodles
1 Tbs Italian parsley, chopped
*A pinch of bijol seasoning (found in the Latin food aisle of your grocery store) (optional)
In a large stockpot, saute the onions, carrots, celery, and garlic in the olive oil over medium to high heat, until the onions are translucent.
Add the chicken breasts, and stir in the seasoning blend, salt and pepper.
Cook the chicken until both sides brown, then add the chicken broth, water, parsnips and bay leaves. Cover the pot, and let cook.
After 30 minutes, remove the chicken breasts and set aside to cool. Lower the heat on the pot to low.
Once the chicken is cool enough to handle, use two forks to shred the meat, and return it to the pot.
Return the soup to a bowl, remove the parsnips and bay leaves, and add the noodles. Cook the noodles according to their package instructions.
Add more salt and pepper to taste, as well as the chopped parsley and the optional pinch of bijol seasoning.
Either serve immediately, or let cool and freeze individual portions for future use.