Guava and Cheese Hamantaschen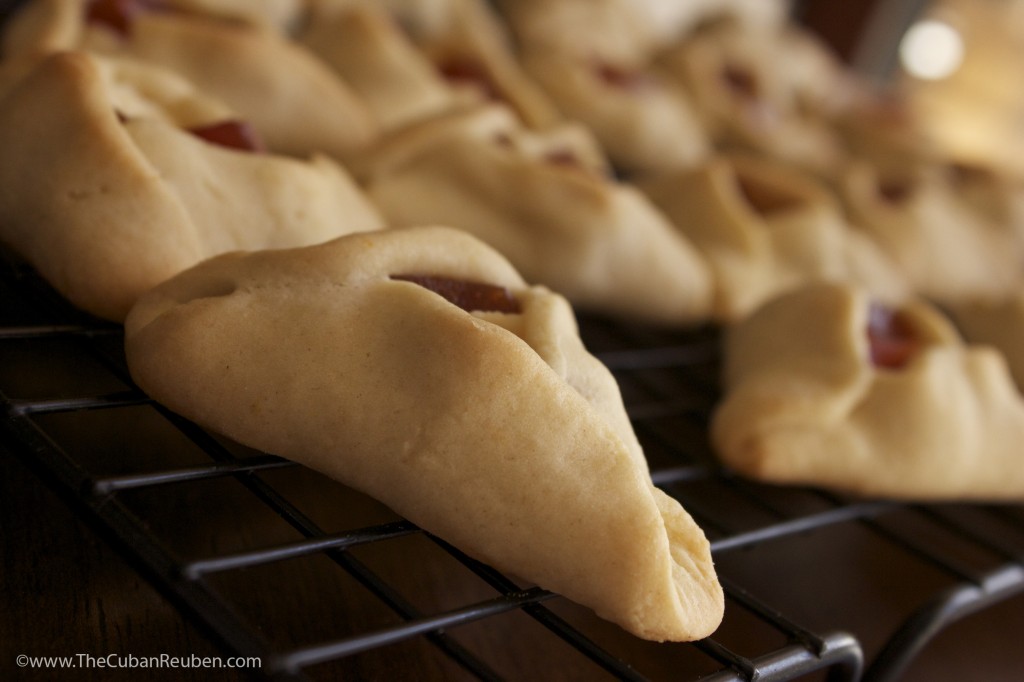 Author:
TheCubanReuben.com
Cuisine:
Cuban and Jewish
1½ cups sugar
1 cup vegetable oil
4 eggs
½ orange, juiced and zested
1 tsp. vanilla extract
¼ tsp. salt
4½ cups flour
4 tsp. baking powder
In a large bowl, cream together the sugar and the oil. Add eggs, and mix well.
Add the juice and zest of ½ an orange, as well as the vanilla extract.
In another bowl, sift together the salt, flour and baking powder, then add to the bowl with the wet ingredients, mixing only until everything is well combined.
Split the dough into four sections, and wrap each section with plastic. Refrigerate for at least 1 hour.
Preheat oven to 350 degrees.
Take one of the four sections of dough from the refrigerator, and on a lightly floured surface, roll to ¼-inch thick. Cut discs using a 2½-inch cookie cutter, and place on a parchment lined baking sheet.
Fill each disc with ½ tsp. of cream cheese and ½ tsp. guava paste.
To mold the hamantaschen, fold over the three sides, creating a pinwheel look, interweaving the sides over each other. Slightly pinch the edges of each triangle.
Bake for 15 minutes.
Cool completely, and serve or store in an airtight container.
***Note: This recipe makes a very large batch, and can easily be halved or quartered.
Recipe by
The Cuban Reuben
at http://thecubanreuben.com/perfecto-para-purim-guava-and-cheese-hamantaschen/