Parmesan Crusted Tilapia with Roasted Veggie Bowties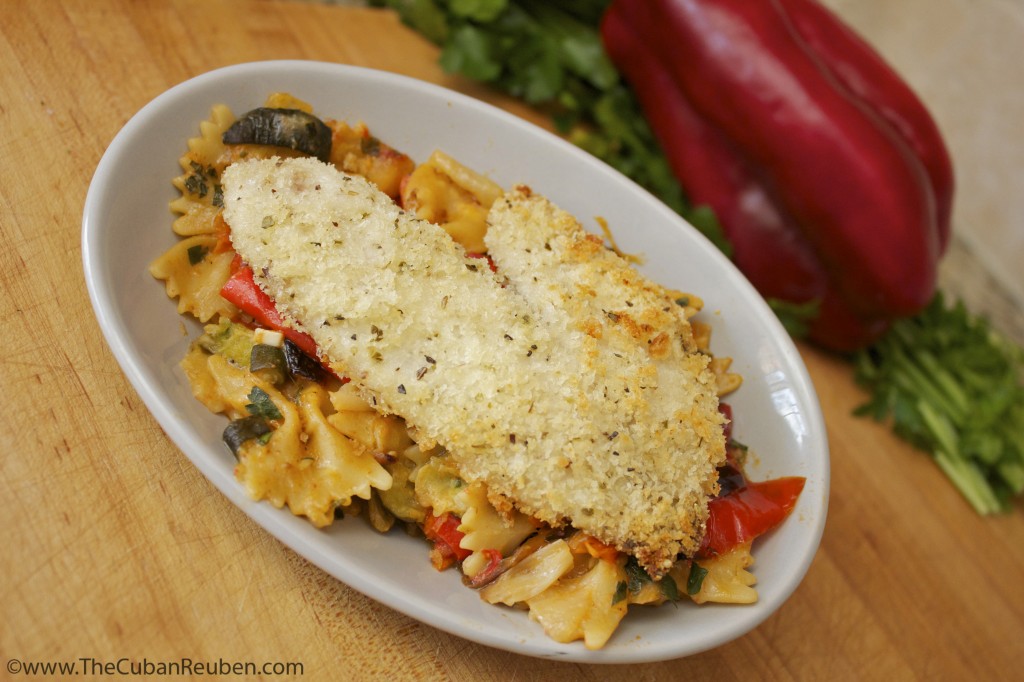 Author:
TheCubanReuben.com
3 tilapia fillets
1-2 tbs. olive oil
½ cup plain panko breadcrumbs
2 tbs. fresh grated parmesan cheese
½ tsp. garlic powder
½ tsp. dried oregano
kosher salt and freshly ground pepper
2 zucchini, sliced
1 large red bell pepper, chopped into large chunks
1 container of cherry tomatoes
1 large onion, chopped
3 cloves of garlic, finely minced
3 tbs. olive oil
kosher salt and freshly ground pepper
8 oz (or half a box) of farfalle pasta
2 tbs. light cream cheese
½-1 cup starchy pasta water
2 tbs. freshly grated parmesan cheese
Preheat oven (or toaster oven) to 375 degrees.
In a shallow dish, thoroughly mix the breadcrumbs, parmesan cheese, garlic powder, dried oregano, salt and pepper.
Add tilapia fillets to a plastic bag, and drizzle with olive oil. Massage the fillets to make sure the oil coats them on all sides.
Drudge the oiled fillets in the breadcrumb mixture, and lay on a parchment-lined baking sheet. Bake for 12 minutes, or until fish is flaky and breadcrumbs have slightly browned.
Preheat oven to 400 degrees.
Arrange zucchini, bell pepper, tomatoes, and onion in a single layer on a baking sheet. Drizzle with olive oil, minced garlic, salt and pepper, and use your hands to thoroughly coat. Roast vegetables for 40 minutes or until they are tender and slightly browned.
Meanwhile, cook pasta according to package, taking care to reserve about 1 cup of the pasta water before draining. Add the roasted vegetables, cream cheese, and about ½ cup of the pasta water.
Stir together, and add more pasta water if the sauce is not thin enough.
Top with grated parmesan.
Recipe by
The Cuban Reuben
at http://thecubanreuben.com/parmesan-crusted-tilapia-with-roasted-veggie-bowties/