Grilled Honey and Lime Shrimp with Asparagus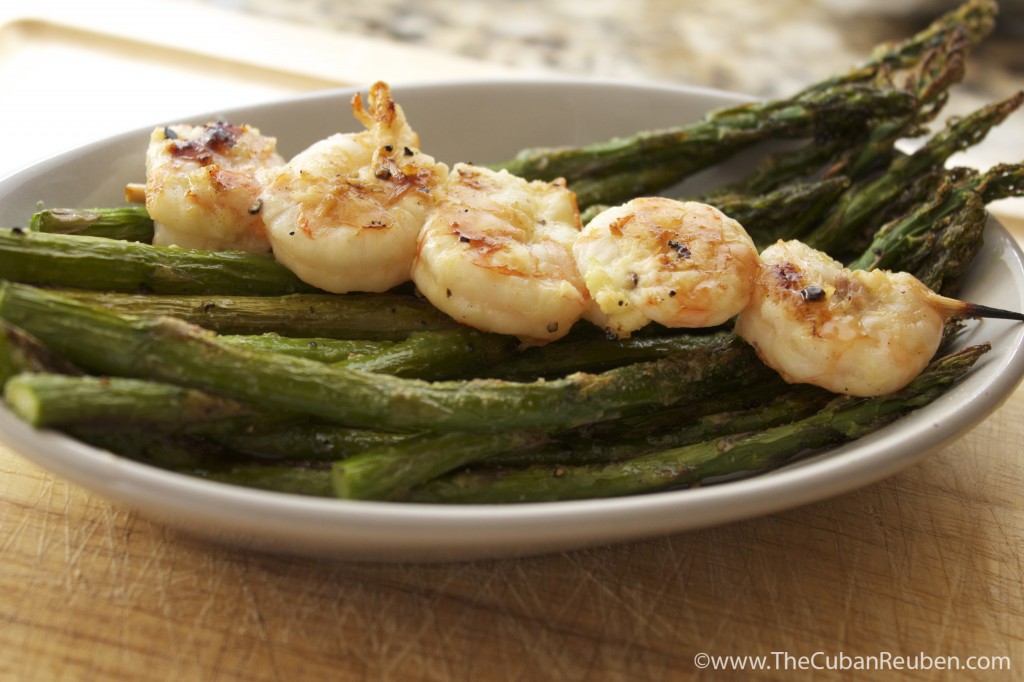 Author:
TheCubanReuben.com
2 limes, zested and juiced
3 cloves of garlic, finely minced
2 Tbs. honey
2 Tbs. olive oil
Kosher salt and fresh ground pepper to taste
1 lbs. shrimp, peeled and deveined
1 lbs. asparagus
wooden skewers
In a small bowl, combine the lime zest and juice, garlic, honey, olive oil, salt and pepper, to make the marinade. Add the shrimp, cover with plastic wrap, and refrigerate for at least ½ hour.
Meanwhile, soak wooden skewers.
Once you are ready to cook, thread the shrimp onto the skewers as you heat the grill.
Cut the tough ends off the asparagus, and season with salt, pepper, and olive oil.
Grill asparagus over high heat for 4-5 minutes, or until grill marks appear, and stalks have slightly softened.
Grill shrimp for about 2 minutes on each side, or when they have turned completely pink, and have curled.
Serve immediately.
If you are keeping kosher, cubes of chicken breast make a great substitute for the shrimp.
Recipe by
The Cuban Reuben
at http://thecubanreuben.com/lets-hear-it-for-spring/