Chocolate and Caramel Dipped Pretzel Rods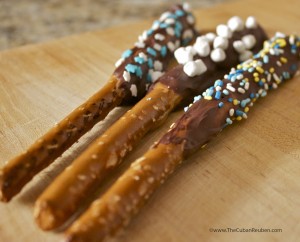 1 bag long pretzel rods
1 bag soft caramel candies
1 bag good quality chocolate chunks
2 tbs water
sprinkles to decorate (optional)
Place unwrapped caramels and water in a large microwave-safe bowl, and microwave for 1 minute at a time, until melted. Mix well between each interval.
Once caramel is melted, dip pretzel rods in the caramel until the caramel reaches the midpoint of the rod. Use a spoon to remove excess caramel from rod. Place rod on a baking sheet lined with parchment paper, and let the caramel set.
Melt chocolate in a double boiler. Once the chocolate is sufficiently melted, dip the caramel-coated rods in the chocolate, and let the excess drip off. Lay on parchment-lined baking sheet to set, and add sprinkles if wanted. You can put them in the refrigerator to speed up the setting process.
Store in an airtight container for one week.
Recipe by
The Cuban Reuben
at http://thecubanreuben.com/chocolate-and-caramel-dipped-pretzel-rods/