White Peach and Mascarpone Pizza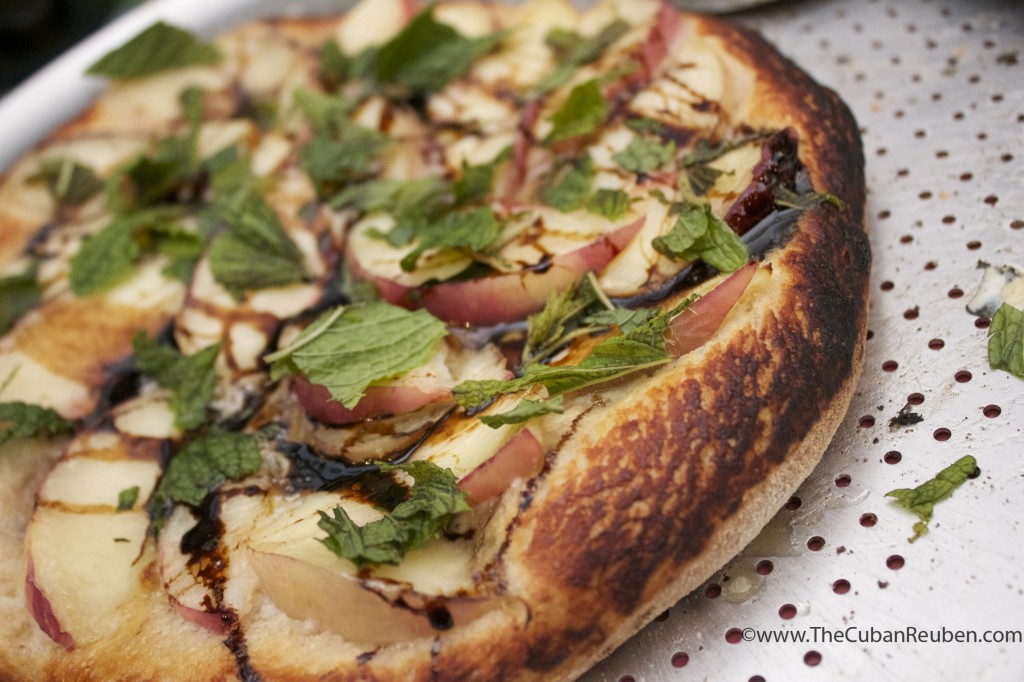 Author:
TheCubanReuben.com and Dana Saly, RD
Cuisine:
California-style
1½ cups hot water
1 tbs sugar
1 packet of dry active yeast
2 cups white flour
1½ cups whole wheat flour
1 tbs extra virgin olive oil
½ tsp salt
extra flour and oil for prep
¾ cups balsamic vinegar
¾ cup mascarpone cheese
1 tbs honey
1-2 large white peaches, sliced
6 fresh mint leaves, torn
Dissolve sugar and yeast in hot water, and set aside for ten minutes.
Meanwhile, in the bowl of a stand mixer, combine white flour and whole wheat flour. Make a well in the center of the flour.
Add 1 tbs extra virgin olive oil and ½ tsp salt to the water/yeast, and pour into flour well. Mix with a dough hook set on second speed until fully kneaded.
Remove doughball and coat in oil in a large bowl. Cover with a dish towel and let rise for one hour.
Punch down, cut into three sections, and roll each into individual balls.
Coat the three balls with oil, and place in individual tupperware containers for one more hour. (You can also freeze at this point. When ready to cook, make sure dough is at room temperature for at least one hour).
Dump each ball into a well floured surface, flatten, turn over, and flatten again (Do not knead!). Work dough by hand into pizza shape, and brush with extra virgin olive oil.
Top as desired and bake according to pizza recipe.
In a saucepan, cook balsamic vinegar over medium heat until it reduces by about half. Set aside.
Prepare pizza dough according to package directions.
Preheat oven to 450 degrees.
Combine the mascarpone cheese and honey together until they are well blended, and smear the mixture onto the pizza dough.
Fan the peach slices on top of the cheese, and bake for 10-15 minutes, until pizza bubbles.
Remove the pizza from the oven, drizzle balsamic reduction to taste, and top with torn mint leaves.
Serve immediately.
If you want to save time, I recommend the wheat pizza dough from Trader Joe's. It's certainly not as good as homemade, but it works well if you are in a pinch for time.

This recipe was written for a conventional kitchen oven. If you are lucky enough to have a brick pizza oven, adjust cooking time accordingly.
Recipe by
The Cuban Reuben
at http://thecubanreuben.com/pizzaparty/