Fresh Tomato Bruschetta with Grilled Crostini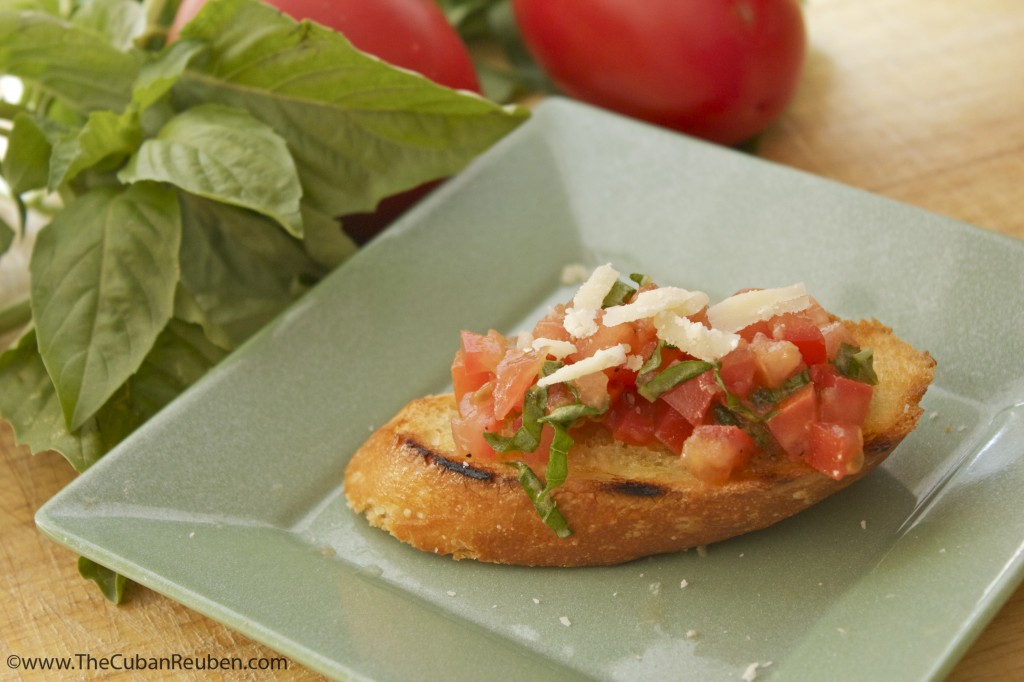 Author:
TheCubanReuben.com
4 Roma tomatoes, diced
7-8 fresh basil leaves
1 clove of garlic, finely minced
1 tbs extra virgin olive oil
1 three-finger pinch of kosher salt
fresh ground pepper
shaved parmesan cheese
8 diagonally sliced pieces of French baguette
extra virgin olive oil
Kosher salt
Fresh ground pepper
In a bowl, add the diced roma tomatoes. Stack the basil leaves, roll them into a cigar, and run your knife, making thin slices. Add the sliced basil to the tomatoes. Finely mince the garlic (I use a microplane zester for this). Add olive oil, salt, and pepper.
Gently stir and combine all ingredients. Cover and refrigerate for 1 hour.
Serve over grilled crostini and top with parmesan cheese.
Brush olive oil over the bread pieces, and sprinkle with salt and pepper. Place on grill over medium to high heat, and cook until grill marks appear.
Top with bruschetta, and serve.
Make sure you use good quality parmesan cheese, and not the powdery stuff that comes from the green can. It really makes all the difference.
Recipe by
The Cuban Reuben
at http://thecubanreuben.com/bruschetta/