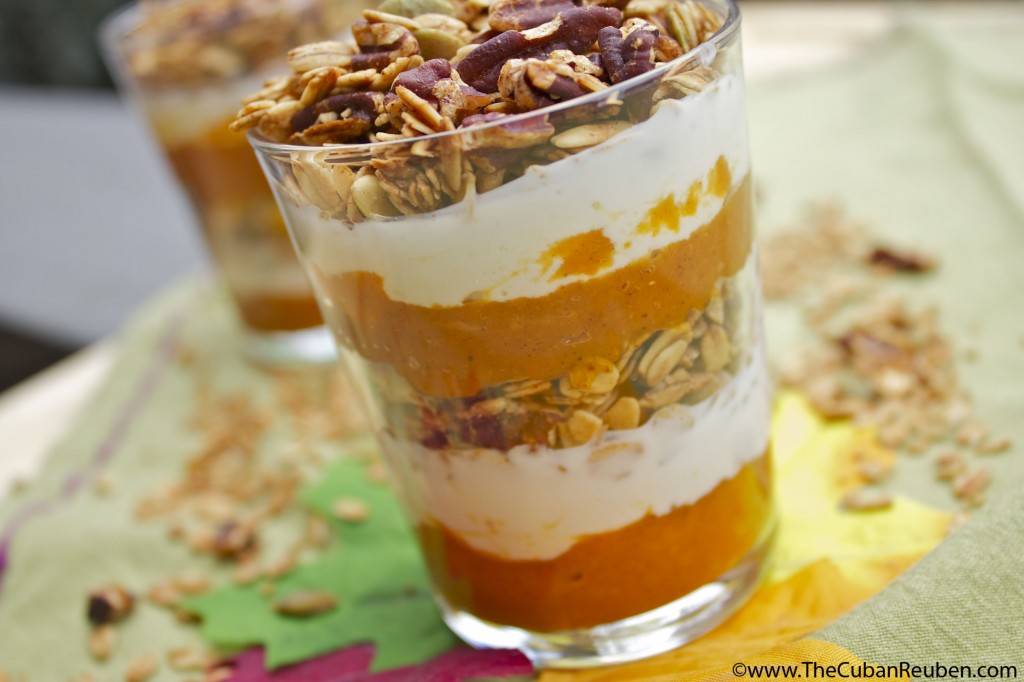 Avid readers of The Cuban Reuben may have noticed that it's been a bit since I've last posted. Since embarking on this blogging journey nearly two (yikes!) years ago, I've prided myself in maintaining a pretty regular posting schedule. This level of commitment has certainly presented challenges along the way, whether they be from a harried work schedule or a lack of inspiration, but no challenge has been greater than the one that presented itself a few short months ago. And since this is a space where I share my thoughts freely, I thought it was only fair that I reveal what's been keeping me away so long. I've got big news!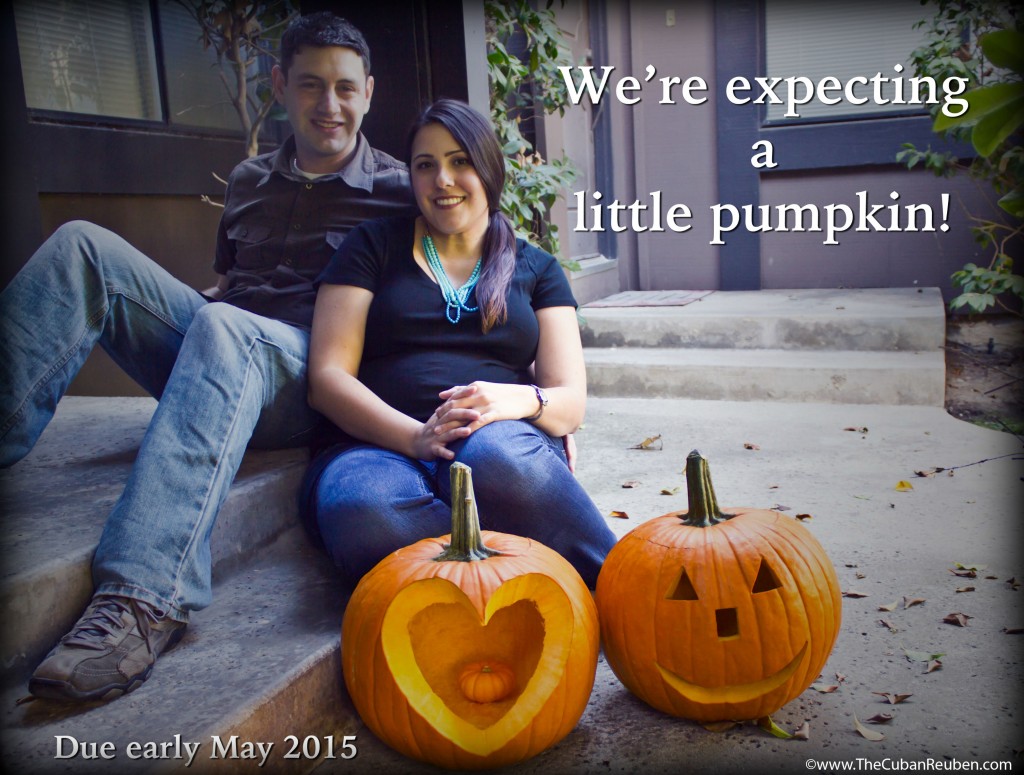 Yes, yours truly will be joining the ranks of matriarchs come May, and I could not be happier. Of course, that's because I've finally emerged from the cloud of morning sickness that was plaguing me for quite some time. Forgive me, dear readers, for not wanting to step foot in my kitchen. Whomever labeled it "morning sickness" was totally off. "All-day sickness" is more accurate. While I still suffer through some serious aversions to food I normally love (read: Kale), I'm happy to report that the worst of it is behind me, and I am feeling pretty great. This means that I have slowly but surely ventured back in the kitchen in an effort to provide nourishment for my little pumpkin beyond the string cheese and saltines that carried me through my first trimester.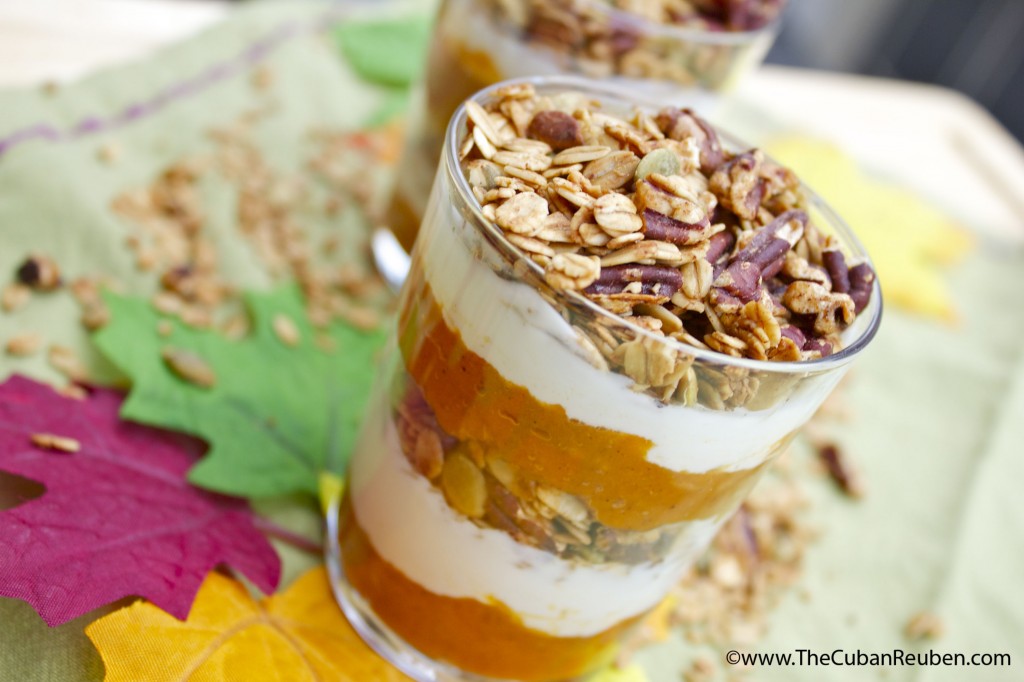 My re-entry to the kitchen has been gradual at best, and my first attempt at something nutritious yielded great validation that "pregnancy brain" is a real thing.  While creating a delightfully seasonal granola flavor, I unintentionally added double the amount of salt I normally use. Of course, I didn't realize my blunder until after I finished baking a giant batch. Not one to easily be defeated in the kitchen, I opted to rescue my recipe by not only pairing it with a sweet treat, but using the leftovers as a crunchy protein-rich topping for salads.
As a nod to my future little pumpkin, today's recipe pairs the distinct flavors of spiced pumpkin pie with thick and tangy Greek yogurt. Together, they act as a natural vehicle for my salted maple granola, and are a not-too-sweet, super-fast way to start your day. If you're looking for something sweeter and more indulgent, feel free to substitute whipped cream for the yogurt. I must admit that I've been quite averse to most sweet foods lately, so maybe this salty mix-up was no accident, after all! (wink, wink)

Pumpkin Pie Parfait with Salted Maple Granola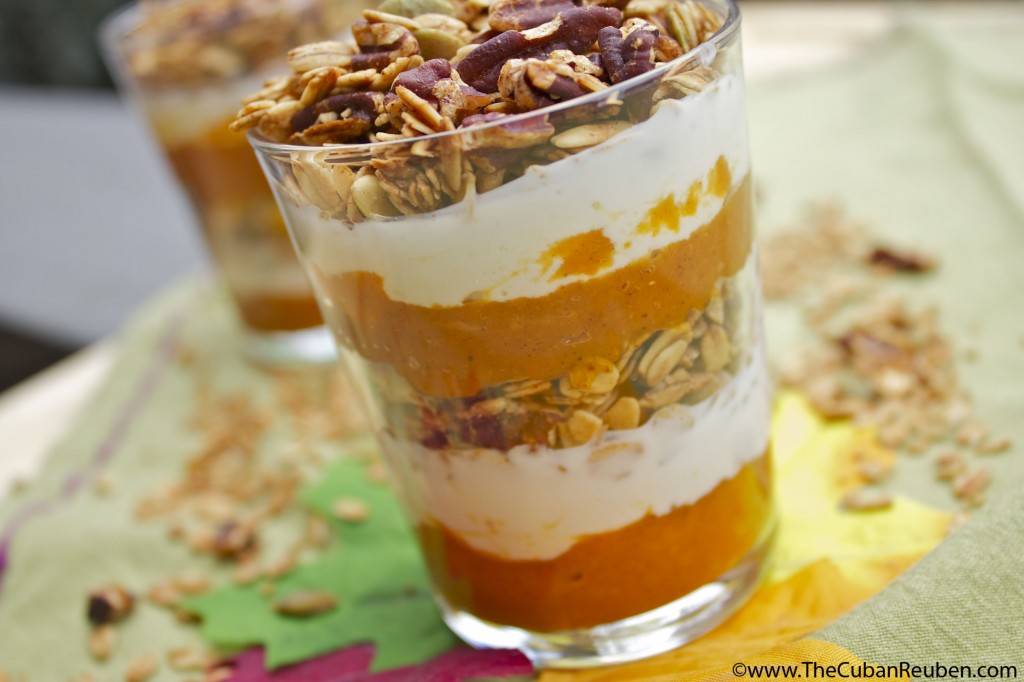 Author:
TheCubanReuben.com
Start your day off right with this healthy alternative that hits all the right cravings.
Ingredients
For the Granola
2 Tbs and 2 tsp of organic extra virgin coconut oil
¼ cup pure maple syrup
1 Tbs vanilla extract
1 tsp salt
¾ tsp pumpkin pie spice
3 cups old fashioned rolled oats
½ cup chopped pecans
½ cup shelled pumpkin seeds (pepitas)
For the parfait
½ cup of pureed pumpkin
2 tsp pure maple syrup (or more, if desired)
½ tsp pumpkin pie spice
1 5.3oz container vanilla Greek yogurt
granola to taste
Instructions
For the granola
Preheat oven to 300 degrees.
In a small saucepan over low flame, heat the coconut oil, maple syrup, vanilla extract, salt, and pumpkin pie spice, stirring constantly until salt and maple syrup have dissolved. Set aside.
In a very large bowl, combine the oats and nuts. Drizzle the oil/syrup mixture over the oats and nuts, and stir until completely coated.
Spread the mixture evenly over 2 large baking sheets lined with parchment paper or silpats, and bake for 20 minutes.
Remove the sheets from the oven. Use a spatula to mix the oats, and re-spread them out evenly. Return the sheets to the oven, and alternate the sheet from the top and bottom racks. Bake for another 10 minutes.
Repeat the previous step every 10 minutes, until oats have reached desired level of browning (about 20-30 minutes).
Remove sheets from the oven, and cool. Store in an airtight container.
For the parfait
In a bowl, combine pumpkin, syrup, and pumpkin pie spice. Stir to combine.
In a small glass, bowl, or other serving dish, layer pumpkin, yogurt, and granola. Serve immediately, or chill in the refrigerator for later.
Notes
*The granola recipe makes quite a bit of granola. It also tastes great on a nice scoop of ice cream, or even as a crunchy salad topper.
*If salted granola is not your thing, feel free to reduce the amount of salt by half.
*For a sweeter, more indulgent treat, substitute whipped cream for the yogurt.