Zucchini and Eggplant Gratin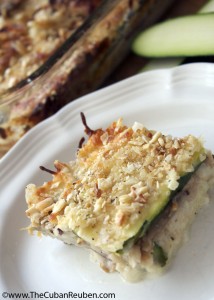 Author:
thecubanreuben.com
3 medium zucchini, cut lengthwise into ¼ inch slices
2 Japanese eggplant, cut lengthwise into ¼ inch slices.
kosher salt and freshly ground black pepper
1 cup of heavy cream, divided
1 cup grated mozzarella, divided
1 cup grated fontina, divided
½ cup grated parmesan, divided
3 sheets of Yehuda matzo, crumbled
2 Tbs. Italian seasoning, divided
2 Tbs. olive oil
Preheat oven to 375 degrees.
Spray a 9 by 13 inch baking dish with kosher for Passover nonstick spray (Or grease with butter or oil).
Place the first layer of zucchini and eggplant in the bottom of the dish, and sprinkle with kosher salt and fresh ground black pepper.
Pour ⅓ of the heavy cream on the zucchini. Sprinkle ⅓ each of the mozzarella, fontina, and parmesan cheeses. Add ⅓ of the matzo crumbs, and ⅓ of Italian seasoning.
Repeat the layering (steps 3 and 4) two more times, ending with the matzo crumbs and Italian seasoning on top.
Drizzle the olive oil over the dish, and place in oven.
Bake uncovered for 40-50 minutes, or until the dish is bubbling and the top is brown.
Let stand for 5 minutes before serving.
Be careful of spillage while baking. You may want to place a tray underneath to catch any leaking cheese.
Recipe by
The Cuban Reuben
at https://thecubanreuben.com/zucchini-and-eggplant-gratin-or-how-to-get-your-family-to-eat-their-vegetables/