Turkey Picadillo with Garlic Parmesan Mashed Potatoes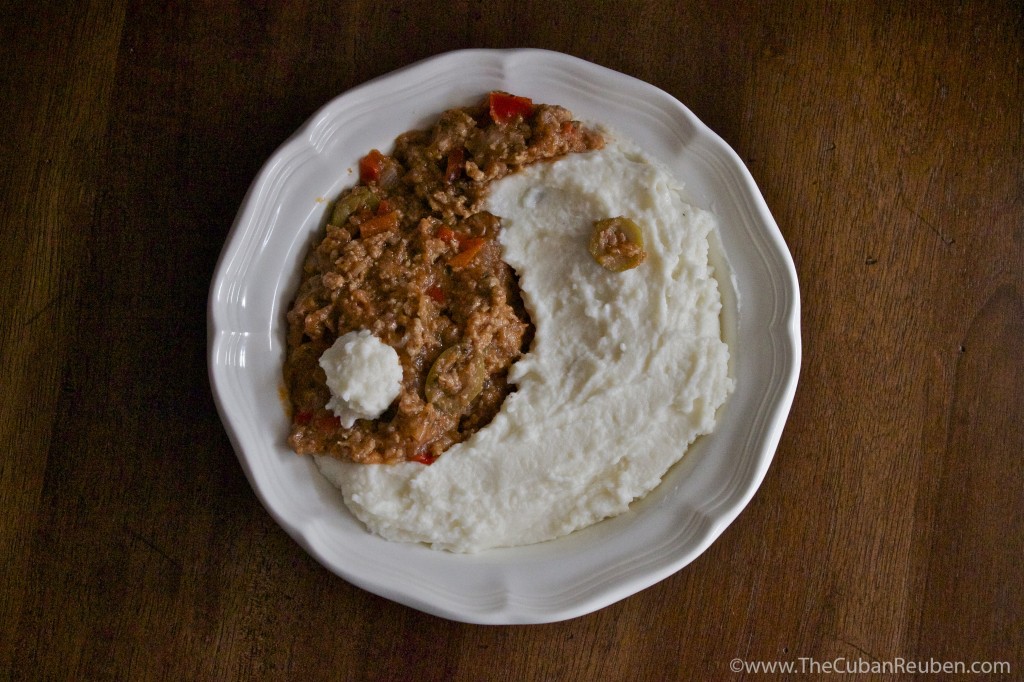 Recipe type:
Main and Side
2 tbs. olive oil
1-1½ lbs. ground turkey
1 large onion, diced
1 red bell pepper, diced
5 cloves of garlic, finely minced
1 8oz can tomato sauce
8oz water
¼ cup green olives with pimento, sliced (including the juice from the jar)
1 tbs. oregano
2 tbs. cumin
2 dried bay leaves
salt and pepper
3 russet potatoes, peeled and cut into 1-inch pieces
1 onion, finely diced.
4 cloves garlic, peeled and smashed, but whole
¼ cup grated parmesan cheese
¼ sour cream
⅛ cup half and half
salt and pepper
Place a large pot on the stove over medium to high heat, and add the olive oil, letting it warm.
Add the onions, bell pepper and garlic, and cook until onions and peppers are soft and translucent, about 5 min. Season with salt, pepper, cumin, and oregano.
Add the ground turkey, and using the bottom and back of a wooden spoon, break up the turkey into small pieces as it browns.
Add the tomato sauce, and fill the can with water, adding that to the pot, as well.
Add the olives and olive juice, and stir well.
Throw in the bay leaves, cover the pot, and simmer for ½ an hour to an hour, or until the turkey is soft and the liquid has reduced by about half.
Serve with rice or mashed potatoes.
Fill a large stock pot with cold water, and add the potato cubes, onion and garlic. Heat the pot over high heat, and add salt to flavor the water.
Once the water starts to boil, cook until potatoes are fork-tender.
Drain the contents of the pot in a colander, and using a potato ricer, rice the potatoes, onions and garlic into the now empty pot.
Return the pot to the stove over low heat, and stir in grated parmesan, sour cream, and half and half. Add salt and pepper to taste.
Serve immediately.
Recipe by
The Cuban Reuben
at https://thecubanreuben.com/turkey-picadillo-with-garlic-parmesan-mashed-potatoes/