Crunchy, Nutty, Chewy and Crisp Cereal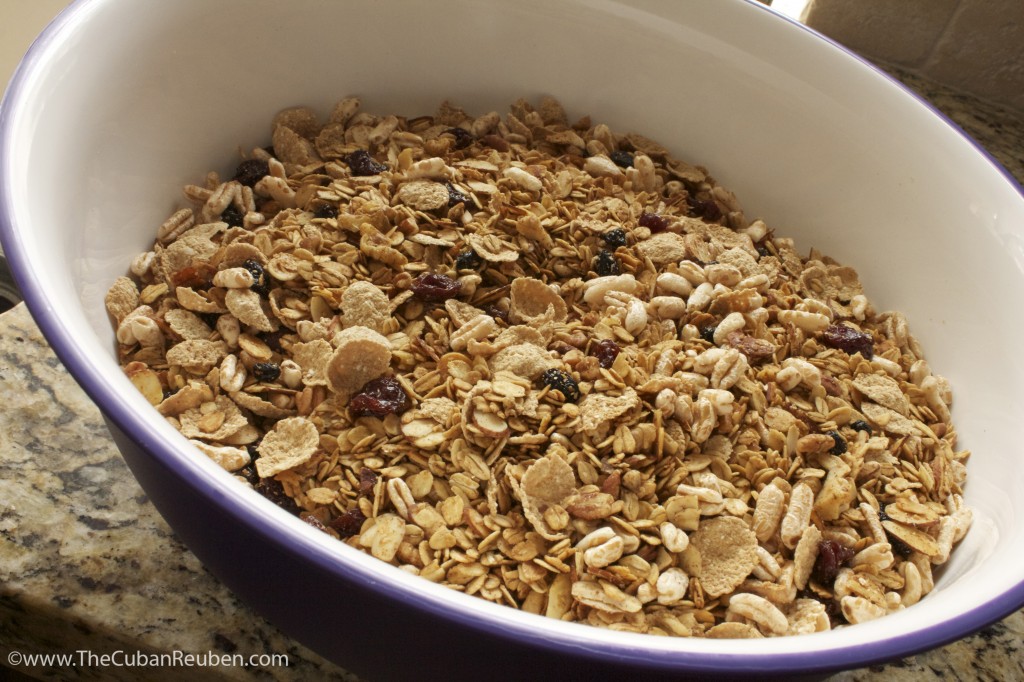 Author:
TheCubanReuben.com, adapted from Maureen Lu
⅓ cup organic extra virgin coconut oil
½ cup honey
2 tbs vanilla extract
1 tsp salt
1½ tsp ground cinnamon
6 cups thick cut oats (or old fashioned rolled oats)
2 cups chopped nuts (I use sliced almonds, chopped pecans and walnuts)
2 cups puffed kamut or puffed brown rice
2 cups bran flakes
1 cup dried fruit (I use Trader Joe's Dried Berry Medley, which has cherries, blueberries, and strawberries)
Preheat oven to 300 degrees.
In a small saucepan over low flame, heat the coconut oil, honey, vanilla extract, salt, and cinnamon, stirring constantly until salt and honey have dissolved. Set aside.
In a very large bowl, combine the oats and nuts. Drizzle the oil/honey mixture over the oats and nuts, and stir until completely coated.
Spread the mixture evenly over 2 large baking sheets lined with parchment paper or silpats, and bake for 20 minutes.
Remove the sheets from the oven. Use a spatula to mix the oats, and re-spread them out evenly. Return the sheets to the oven, and alternate the sheet from the top and bottom racks. Bake for another 10 minutes.
Repeat the previous step every 10 minutes, until oats have reached desired level of browning (about 20-30 minutes).
Remove sheets from the oven, and cool.
Once cooled, combine the oats mixture with the kamut (or puffed brown rice), bran flakes, and dried fruit.
Store in an airtight container.
Some variations Maureen has done include:
Kahlua and Amaretto
Vanilla ginger (Adding ginger powder in place of the cinnamon to the oats)
Maple almond pecan (adding maple syrup to the mix, and slightly less honey)
Cinnamon/Nutmeg (nice in the Fall/Winter)
Recipe by
The Cuban Reuben
at https://thecubanreuben.com/cereal/