If you live anywhere near southern California, then you know that the best bakery in town is Porto's. This family-owned Cuban bakery specializes in everything from decadent confections and savory sandwiches, to picadillo-stuffed potato balls (my husband's favorite) and the moistest, most egg-y challah this side of the Mississippi.Yes, you read that right. The best challah in town can be found at the Cuban bakery. No matter the time of day, there are always long lines filled with people aching to get their pastry fix. Sure, Porto's carries the classic pastries familiar to their clientele, but if you want to get something authentic to their Cuban baking traditions, there is one obvious choice: The Refugiado (or Refugee), a delicately flaky strudel, filled with pungent guava and creamy cheese.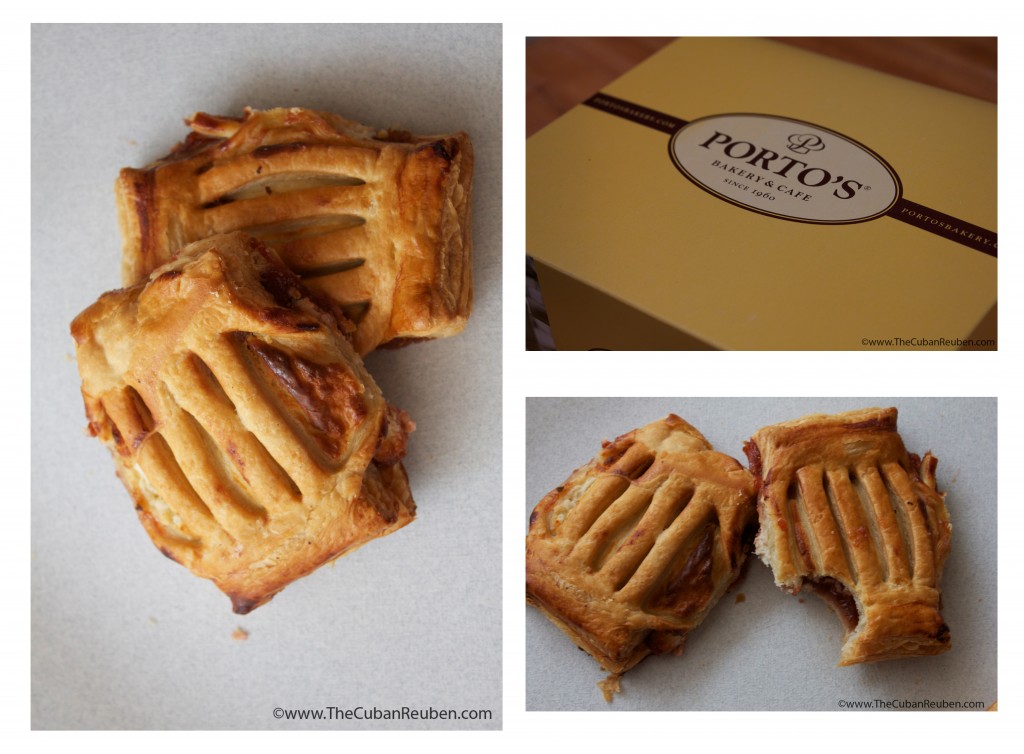 I'm pretty sure that my family alone kept Porto's in business for a good many years, as any life event worth celebrating featured these desserts, which is where I derived my theory on its peculiar name. Guava and cheese is a classically Cuban combination, and one eyes-closed  bite of a Refugiado transports any Cuban native to their motherland.  Essentially, It's a taste of home, and it's one that I desperately wanted to replicate in my new hamantaschen recipe.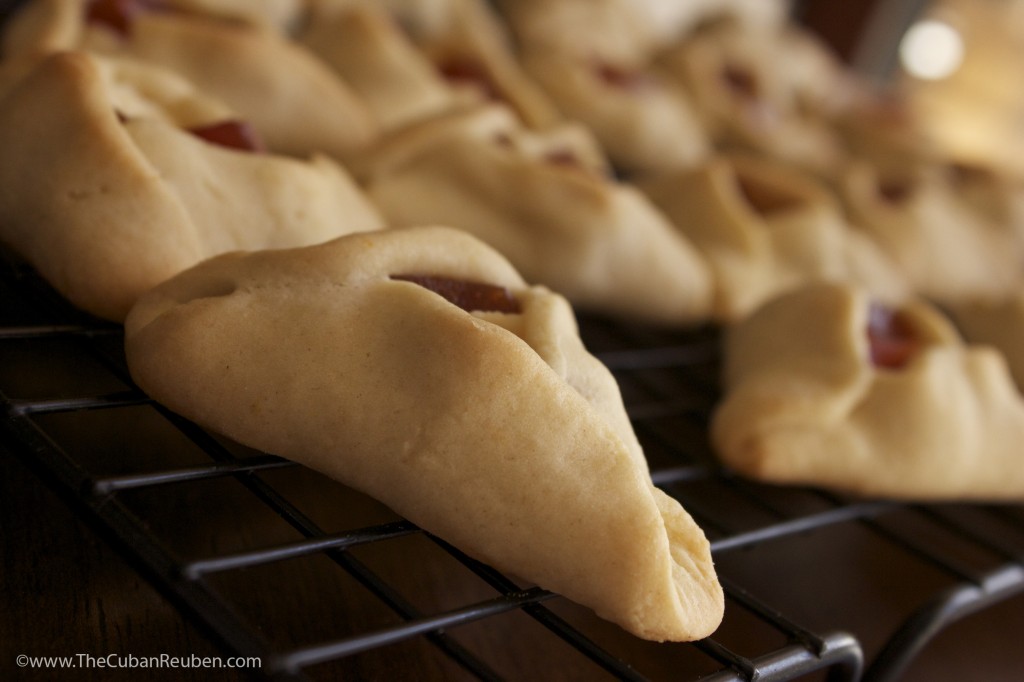 My husband and I have been known to hop the Purim carnivals in town, searching for the perfect hamantaschen, so there was a little bit of pressure for me to find just the right recipe. After scouring my stash of cookbooks, and wading through my favorite blogs, I tested 3 different recipes for hamantaschen, but none of them came up to snuff.  I tackled my filling problem relatively quickly. My first batch used guava preserves, which didn't hold up to the heat, and unceremoniously pooled from the dough. Then, I tried the heartier guava paste, and that seemed to do the trick, but I was still off on the dough. One batch, the dough was too soft, the next, too dry, and so on. Witnessing my flour-fueled displays of frustration (and tasting all three reject batches), my husband finally offered a suggestion: Get in touch with Marci.
Marci is a long-time family friend, who met my mother-in-law through their temple Sisterhood. She was also an official witness at my wedding, and signed the ketubah, which is currently proudly displayed in our living room.  According to my husband, nobody makes better hamantaschen than Marci, and it made sense to me to go straight to the source. When we connected, Marci explained that not even my mother-in-law had this recipe! Which, of course, explains why it was so absent from my combined family cookbook. As soon as Marci generously shared her winning dough recipe, I went to work, and wouldn't you know it…my husband was right.

I mixed, rolled, cut, and folded this dough with ease, and it baked into perfect little guava and cheese hamantaschen! As a bonus, the recipe makes a ridiculous amount of dough, and I have a bunch left in my fridge, so I can play around with other filling options, soon.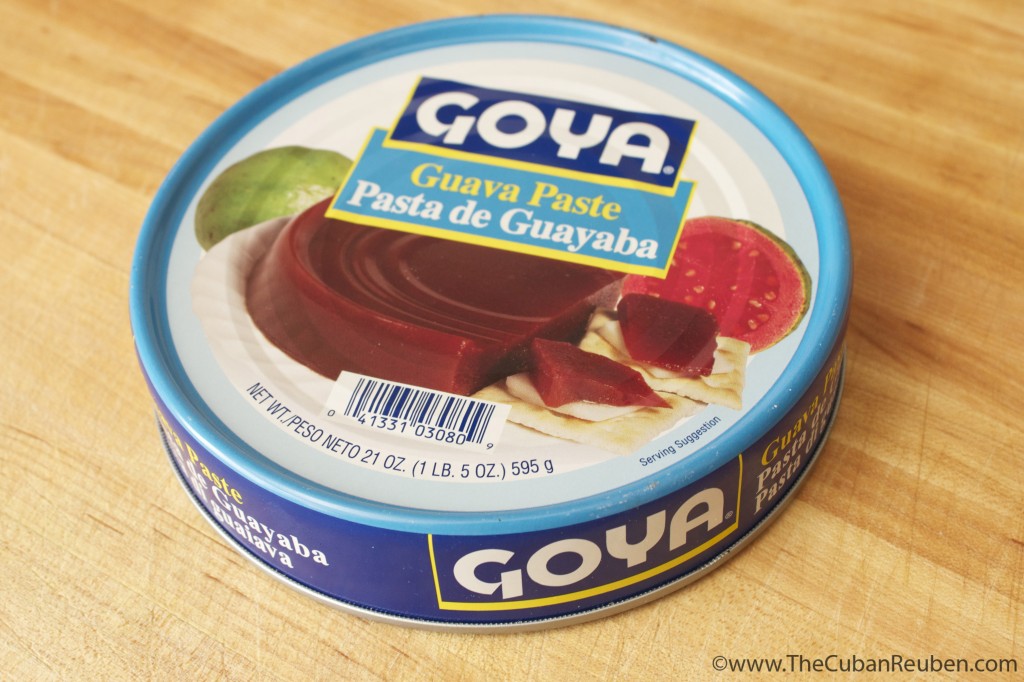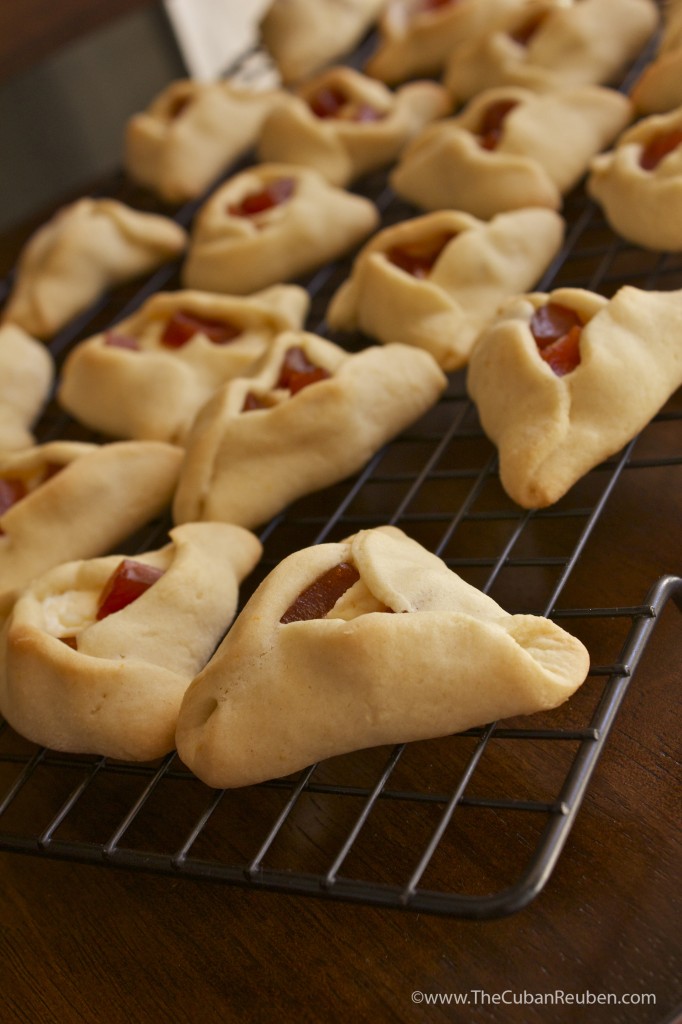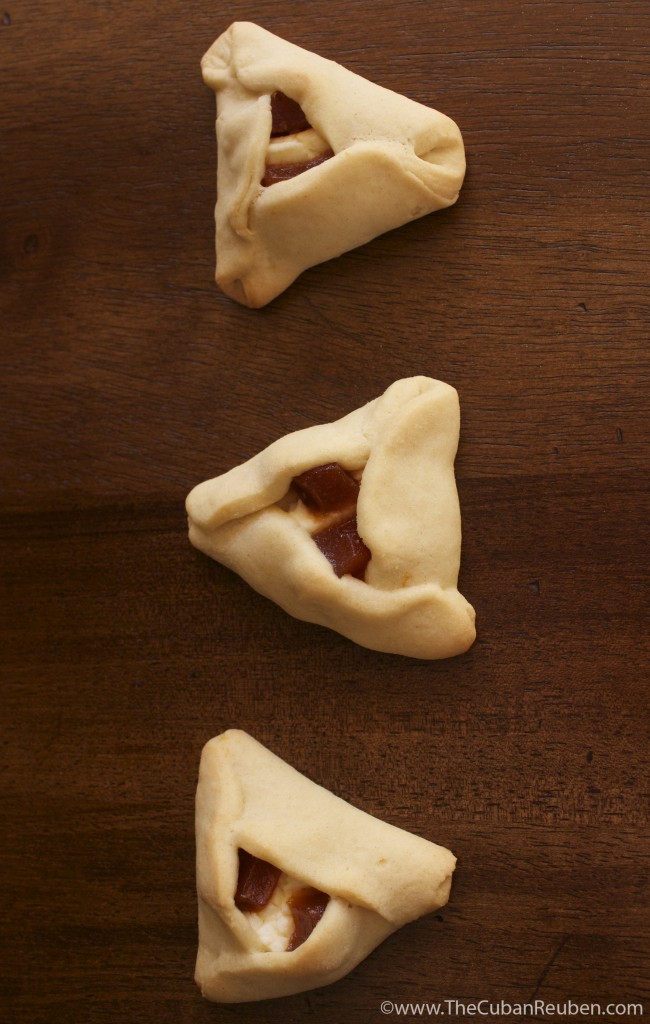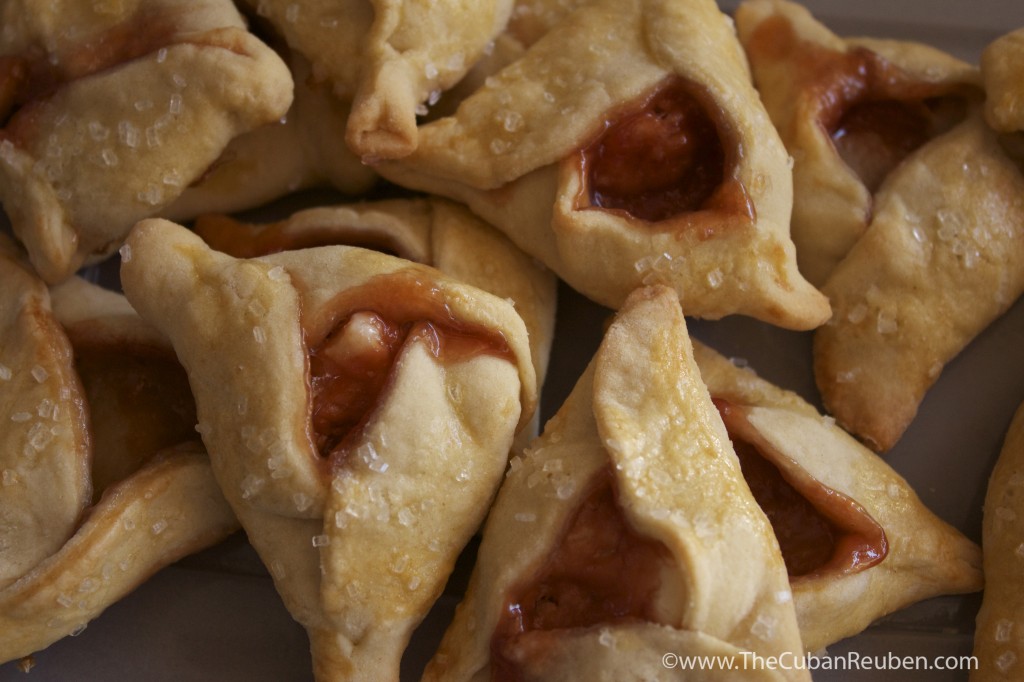 Guava and Cheese Hamantaschen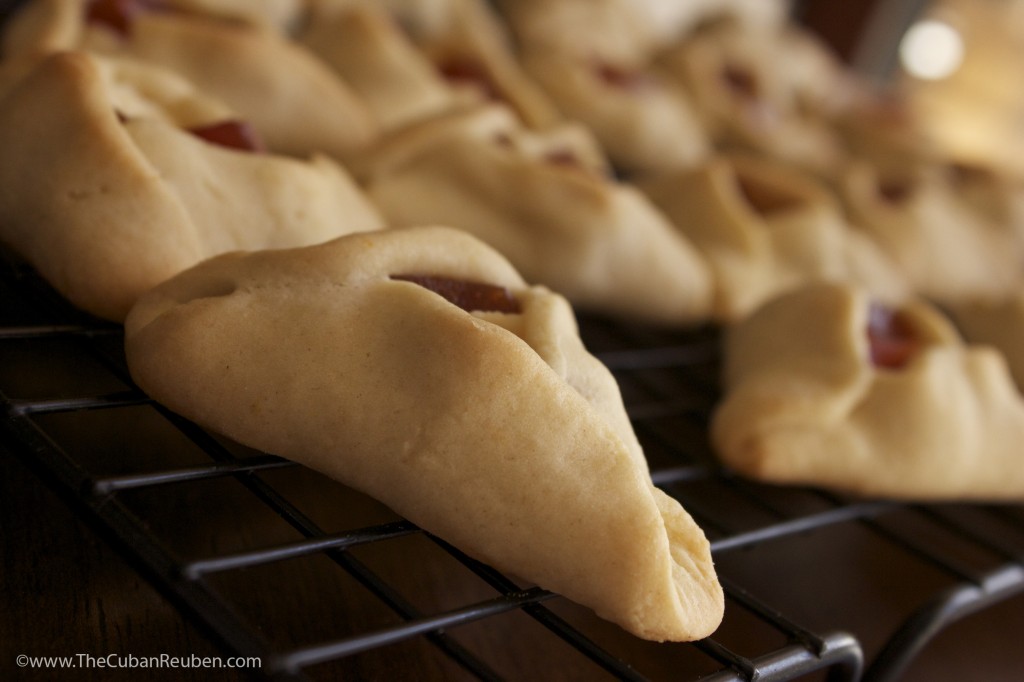 Author:
TheCubanReuben.com
Cuisine:
Cuban and Jewish
Cultures combine in this delicate Purim treat.
Ingredients
For the dough:
1½ cups sugar
1 cup vegetable oil
4 eggs
½ orange, juiced and zested
1 tsp. vanilla extract
¼ tsp. salt
4½ cups flour
4 tsp. baking powder
For the filling:
Instructions
In a large bowl, cream together the sugar and the oil. Add eggs, and mix well.
Add the juice and zest of ½ an orange, as well as the vanilla extract.
In another bowl, sift together the salt, flour and baking powder, then add to the bowl with the wet ingredients, mixing only until everything is well combined.
Split the dough into four sections, and wrap each section with plastic. Refrigerate for at least 1 hour.
Preheat oven to 350 degrees.
Take one of the four sections of dough from the refrigerator, and on a lightly floured surface, roll to ¼-inch thick. Cut discs using a 2½-inch cookie cutter, and place on a parchment lined baking sheet.
Fill each disc with ½ tsp. of cream cheese and ½ tsp. guava paste.
To mold the hamantaschen, fold over the three sides, creating a pinwheel look, interweaving the sides over each other. Slightly pinch the edges of each triangle.
Bake for 15 minutes.
Cool completely, and serve or store in an airtight container.
Notes
***Note: This recipe makes a very large batch, and can easily be halved or quartered.