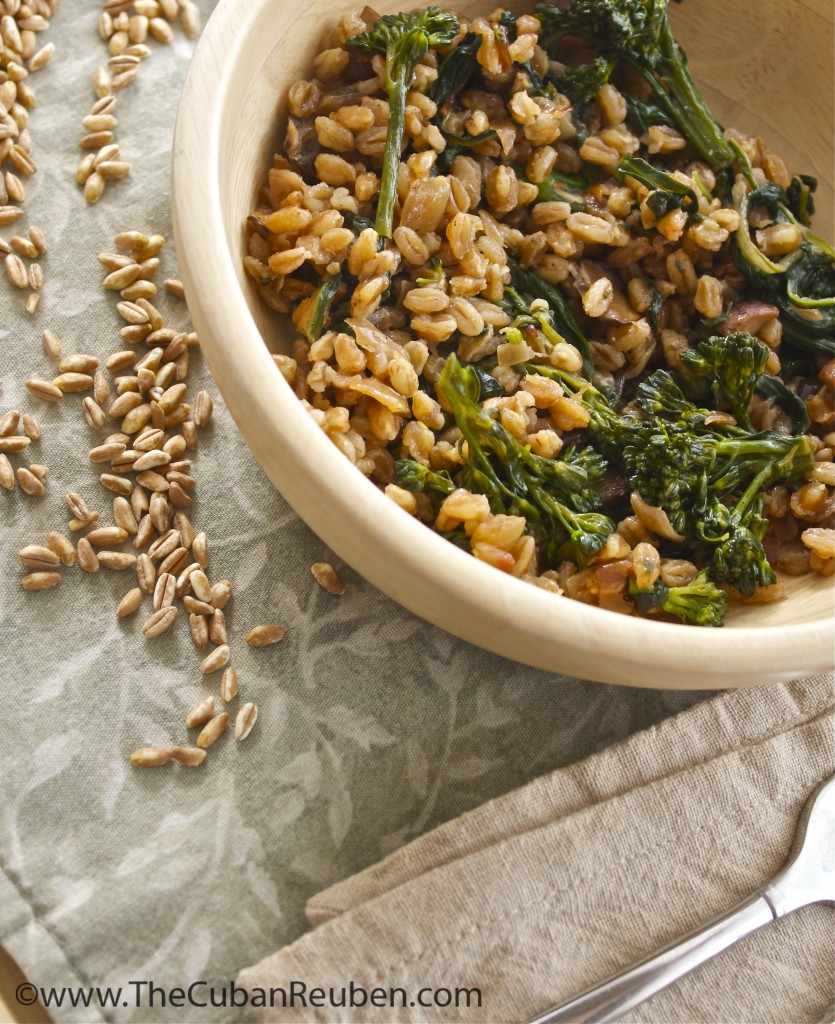 Every once in a while, I'll throw together a dish using only ingredients I find in the pantry and fridge.  And every once in a while, I hit a home run good enough that Kenny requests the dish time and again. I did it with my "Tilapia a la Jenny," and not too long ago, I did it with farro. For those of you who aren't familiar with this ancient Roman grain, allow me to introduce you, because farro is making a comeback in a major way. High in fiber and protein, its slightly nutty flavor and chewy texture make it a favorite amongst vegetarians and carnivores alike. Best of all, its super cost-effective nature, meaning a little goes a long way, makes it ideal for feeding a crowd.
Even though my "crowd" consisted of just the two of us, that bag of "10-minute" farro was calling my name from it's hiding spot tucked away in the black hole known as my pantry. It was one of those nights that I came home from work exhausted, and hadn't had time to run to the market. So, I did what I do best, and I foraged throughout my kitchen, pulling an onion from the basket on the counter, that pint of meaty crimini mushrooms that had been sitting in the fridge for a few days, and that bunch of broccolini I'd been meaning to use. Since I had never tasted farro before, I was a little apprehensive about its flavor, but then I remembered a rule of thumb my mom taught me ages ago. Whenever I cook grains whose directions suggest cooking them in water, I always add a boost of flavor by swapping the water with a corresponding stock. Often times, I use chicken stock, just because I always have it on hand, but vegetable or beef stocks are interchangeable in this particular recipe.
Once I got the farro going in the stock, I made quick work chopping and sauteing the onions and mushrooms in a bit of olive oil. I added the broccolini at the very end, because I didn't want it to lose all of its crunch. As soon as the farro was done cooking, I mixed in the vegetables, and topped it all with a nice snow of freshly grated parmesan cheese.
As Kenny and I sat down for dinner, I was a little nervous to serve this to Mr. Meat-and-Potatoes, but my worries quickly subsided when I caught him serving himself a second helping. Lucky for me, he left enough leftovers for me to indulge with breakfast the next day. And oh, was I ever thankful. Topping this dish with a poached egg and watching the runny yolk drip over the farro might just be my new favorite way to start the day.

Farro with Onions, Mushrooms, and Broccolini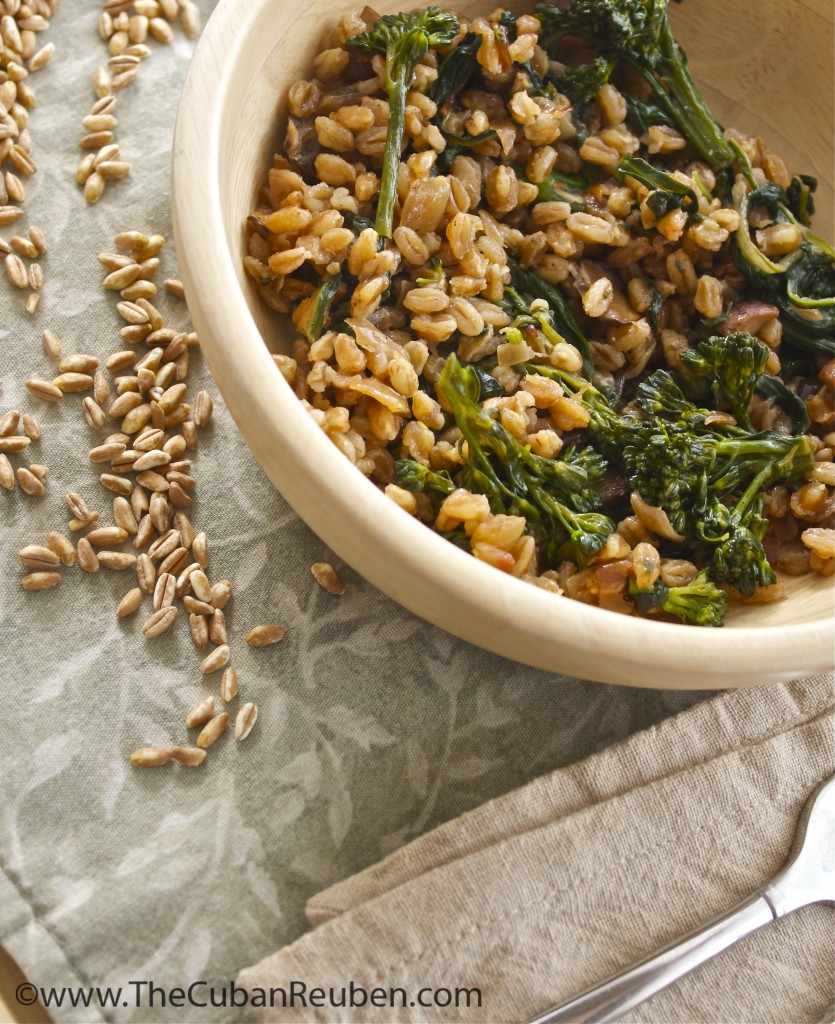 Author:
TheCubanReuben.com
Consider this dish a love letter to vegetarians (but know that carnivores will love it, too).
Ingredients
1 cup farro
chicken stock (or vegetable stock)
2 Tbs. olive oil
1 small yellow onion, diced
1 clove of fresh garlic, minced
1 pint crimini mushrooms, diced
1 bundle broccolini, coursely chopped
Kosher salt and pepper to taste
Freshly grated parmesan cheese
Instructions
Cook farro according to package instructions, swapping the stock for the water.
Meanwhile, in a large saute pan, heat olive oil, and swirl to coat the pan. Add the onion, garlic and mushrooms, and cook until the onions are transluscent.
Add broccolini, and cook for 2 minutes.
Season vegetables with kosher salt and freshly ground pepper, and add the cooked farro. Mix well, and top with freshly grated parmesan cheese.
Serve immediately.