They say that opposites attract, and nothing could be more true when it comes to the pairing of me and my husband. He's a math/science kind of guy, and I'm an artsy fartsy kind of girl. His pulse races at the first note of Beethoven's Ninth Symphony, and most classical music makes me want to cozy up and take a nap. But I'd say that the biggest characteristic that sets us apart is that I am a big picture type of person, and he takes life one bite at a time.
Maybe it's his engineering brain, or simply a trait he picked up from his folks, but for the ten years we've been together, Kenny has always excelled at taking seemingly overwhelming tasks, and breaking them down to bite-sized, manageable pieces. I, on the other hand, have a tendency to look at that overwhelming big picture, and get paralyzed by the grand scope.
For instance, for the longest time, I resorted to buying pre-cut fruit from the market, because I couldn't wrap my brain around how to hack at such unwieldy and cumbersome giants like watermelon and pineapple. The task seemed time-consuming, and I envisioned having to use lots of muscle. That is, until my dear husband imparted some wisdom, and encouraged me to learn how to do it myself. In the process, I could even save a bit of cash. It almost always comes down to saving a bit of cash to him.
Since I love to take risks in the kitchen, I thought this might be one worth taking, and I discovered that it is much easier than I ever could have imagined. All you really need is a good, serrated knife, and about five minutes. It doesn't even take a lot of effort!
First, you take your large, awkwardly shaped piece of fruit, and place it on its side. Slice off the top and bottom sides, and stand the fruit back up on its now level surface.

Using that sharp, serrated knife, slice pieces of the skin off, one at a time, until the rind is completely off.

For pineapple, slice the fruit into skewers, and cut out the core. You could also slice the fruit into rounds, and use a small cookie cutter to cut out the core. I sometimes do that for my younger cooking students, as they like the fun shapes.

That's it! Simple, right? Let's try it again, this time with a seedless watermelon.
Cut the top and bottom off, and stand the fruit up, so it is level. Carve off the rind, one slice at a time, then cut the fruit into more manageable bite-sized pieces.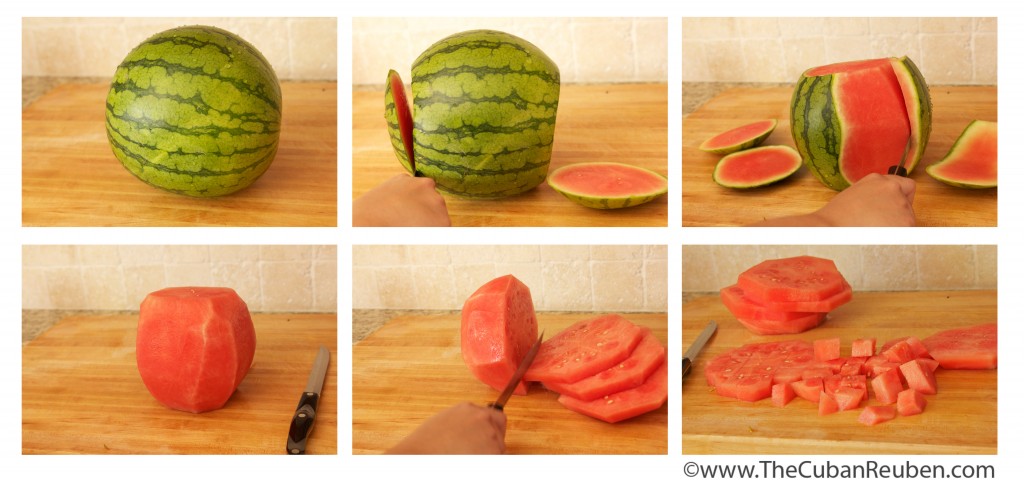 Once I mastered this new skill, I haven't stopped slicing and dicing my own fruit, instead of taking the more expensive help from the store. And my fruit salads have never been the same.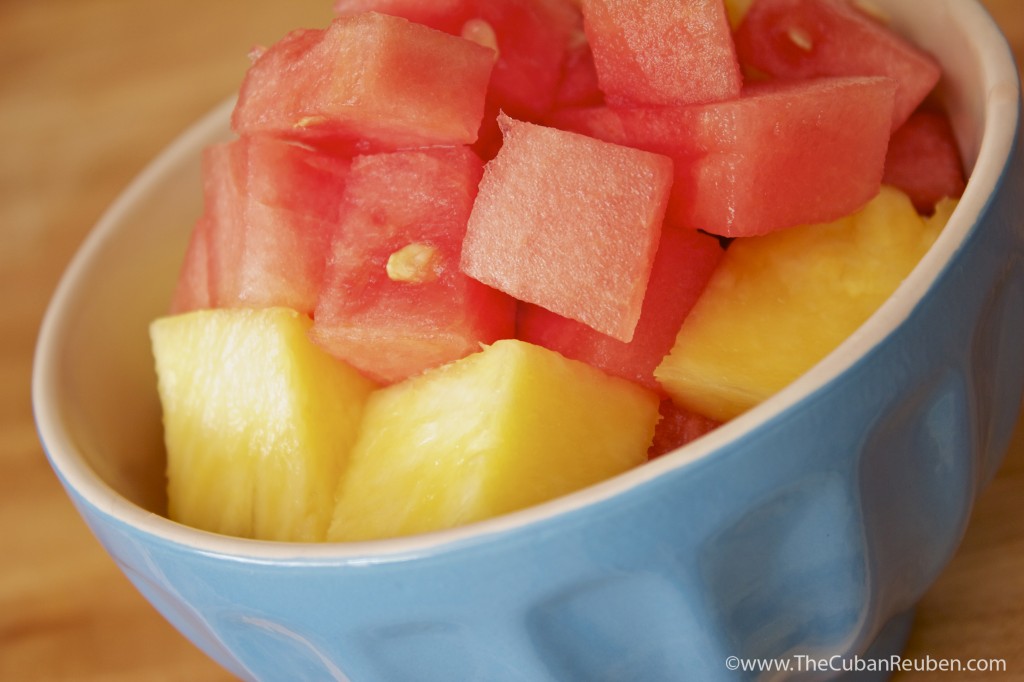 Take a chance, and try it for yourself. You'll be surprised at how simple it can really be when you take it step by step, piece by piece.