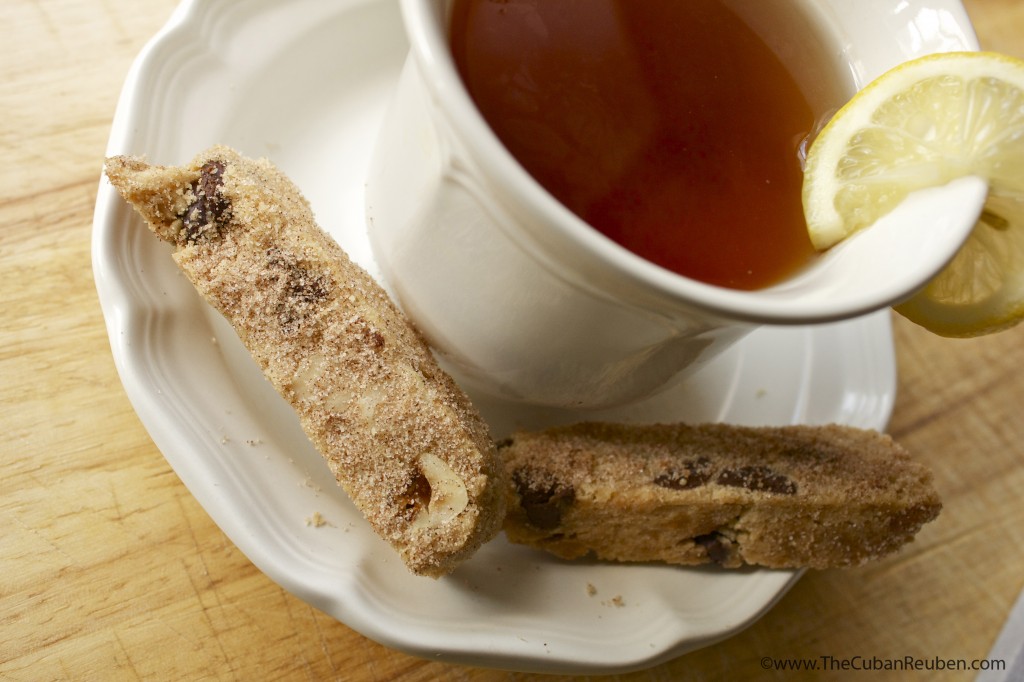 As Passover quickly approaches, I am reminded of the many reasons I look forward to it every year.  It's not because I have an affinity towards the bread of affliction, or because I get to use the fancy tablecloth, but because my mom makes her famous (at least to me) chocolate chip hazelnut mandel bread. Try as I may, like a salty, golden potato chip, I just can't have one. This Jewish answer to Italian biscotti is the stuff dreams are made of. Sure, you can make them all year round, but part of their allure is that Mom only makes them but once a year.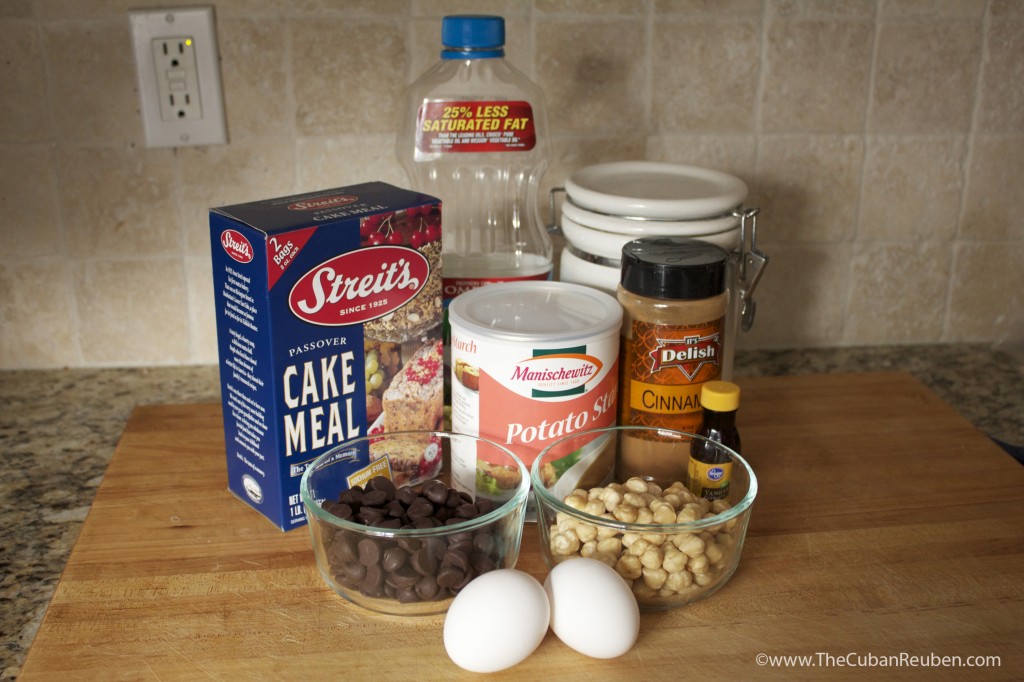 These cinnamon-sugar-coated logs crumble ever so gently, like a toppled sand castle in your mouth. And while I have come to expect nuggets of chocolate in most of my favorite desserts, the hazelnut chunks are like my very own buried treasure. Understandably, hazelnuts are not inherently Cuban, but they certainly illicit strong memories for me of my maternal grandmother. She always had a bowl of whole nuts on the coffee table. Two nutcrackers hanging from the side invited any guest to have at the assortment.  My Abuela and I always knew hidden amongst the large ominously large walnuts and the oblong-shaped almonds, the crowned jewels of the bowl were the small golden shells that covered the most delicious hazelnuts. Best of all, cracking the shell to one made a distinctly sharp sound. I often offered to crack her a handful, just so I could take pleasure in the pitch.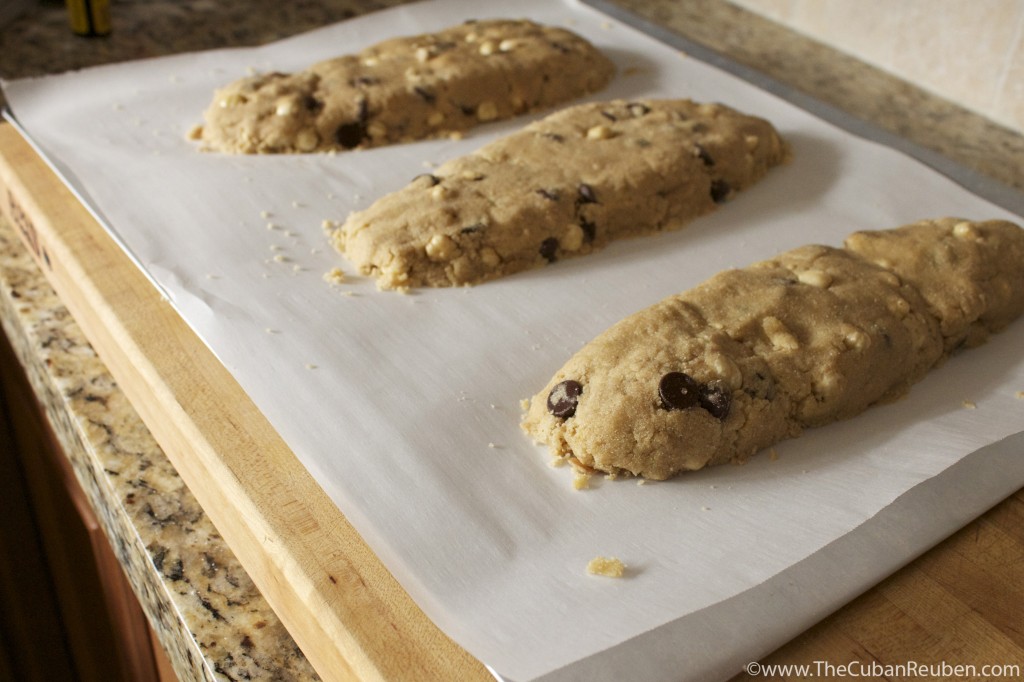 To me, it's no accident that my mother adds hazelnuts to her mandel bread, as they are clearly the cream of the nut crop. My favorite is when she manages to slice the cookies in such a way that the center of a nut shows, making it simply irresistible. To make my stash last all 8 days of Passover, I keep a bag stored in the freezer, taking out only one or two pieces at a time. This usually does the trick. Sometimes. Ok, hardly ever.

Served alongside a nice cup of tea, these cookies will make you forget it is Passover.
Dark Chocolate Hazelnut Mandel Bread (Passover)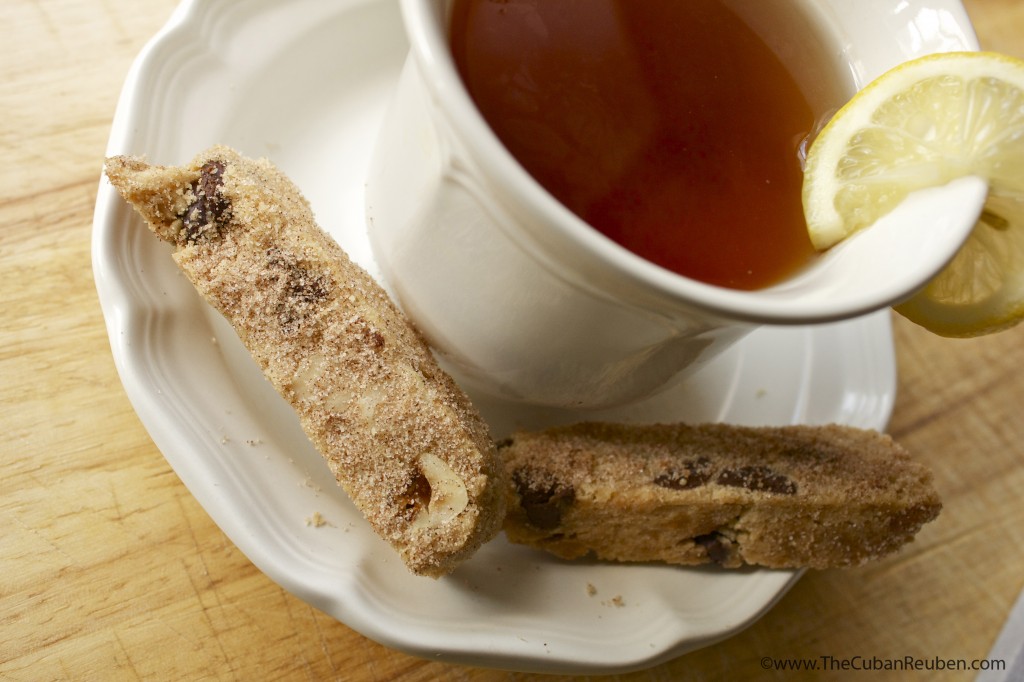 Author:
TheCubanReuben.com
Delicious served with a cup of tea.
Ingredients
2¾ cups matzoh cake flour
¾ cups potato starch
1 cup, plus 4 tbs sugar
1½ cup vegetable oil
3 eggs
1 tsp vanilla
dash of salt
1 cup chopped hazelnuts
1 cup dark chocolate chips
1 tsp cinnamon
Instructions
Preheat oven to 350.
In a small bowl, mix cinnamon with 4 tbs sugar, and set aside.
In a medium bowl, sift together flour, starch and salt. In a separate bowl, mix together with a fork the oil, 1 cup of sugar, eggs, and vanilla. Add one cup at a time of the flour mixture until just combined.
Fold in the chocolate chips and hazelnuts.
Separate the dough into 3 balls. Spread each ball into an oval on a parchment-lined baking sheet. Sprinkle dough with half of the cinnamon sugar mixture.
Bake for 30-35 minutes. After baking, and while they are still a little bit hot, slice into ½ to ¾ inch wide pieces.
Turn pieces over on sides, and sprinkle again with the rest of the cinnamon sugar mixture.
Lower the oven temperature to 200 and bake again for 10-15 minutes. Cool before serving.