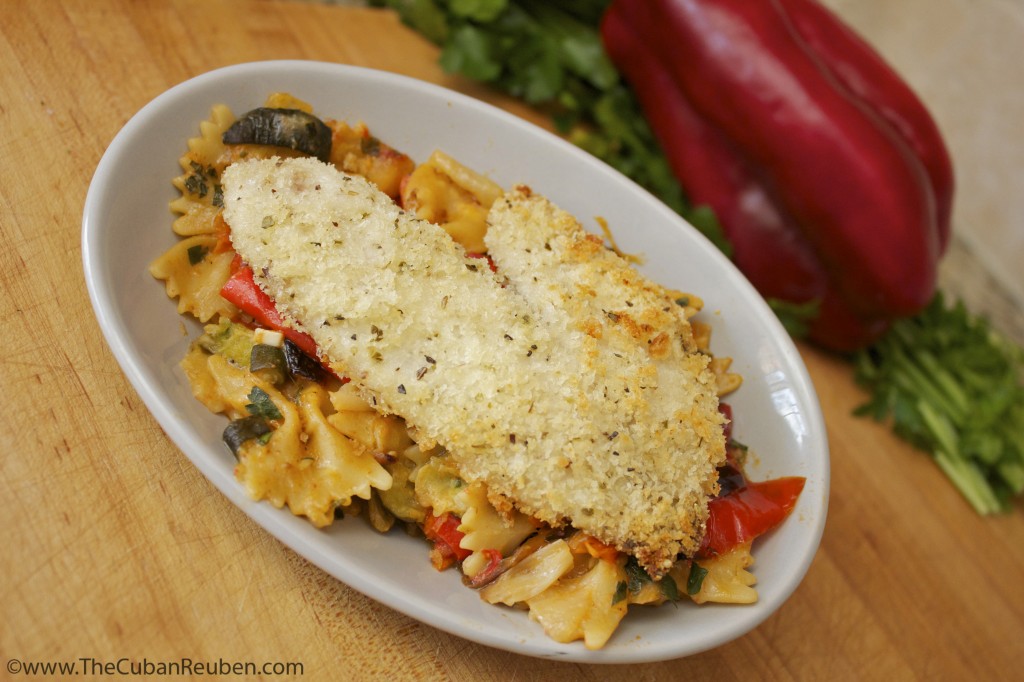 Every now and again, I find myself struggling to get out of the habit of cooking the same handful of dishes on repeat. Granted, I'm lucky, because I have found those sure-fire recipes that are nutritious and enjoyed by my family, but on the other hand, I love to explore in the kitchen, as well. Sometimes, when I don't have a lot of time to kill, I build a culinary challenge around not leaving the house. What can I make with the ingredients I find in my pantry, fridge and freezer? Fortunately, as the daughter of my mother, I'm usually well-stocked, and can often whip together something great.
That's exactly what happened to me last night. When I checked the fridge, I noticed that I had a crisper bin full of vegetables that were not going to last much longer, and I knew I had to use them soon. The lightbulb instantly went off, and I peeled, chopped, and seasoned my way through a ratatouille-style melange of roasted veggies.

A quick peek in the freezer produced three tilapia fillets, which would make a perfect protein pairing. In all honesty, fish is rarely my first choice protein, but in a pinch, I reminded myself of its health benefits, and moved on to the next phase. Plus, there are few things that aren't tasty when coated with garlic-infused breadcrumbs and the sharp bite of good parmesan cheese.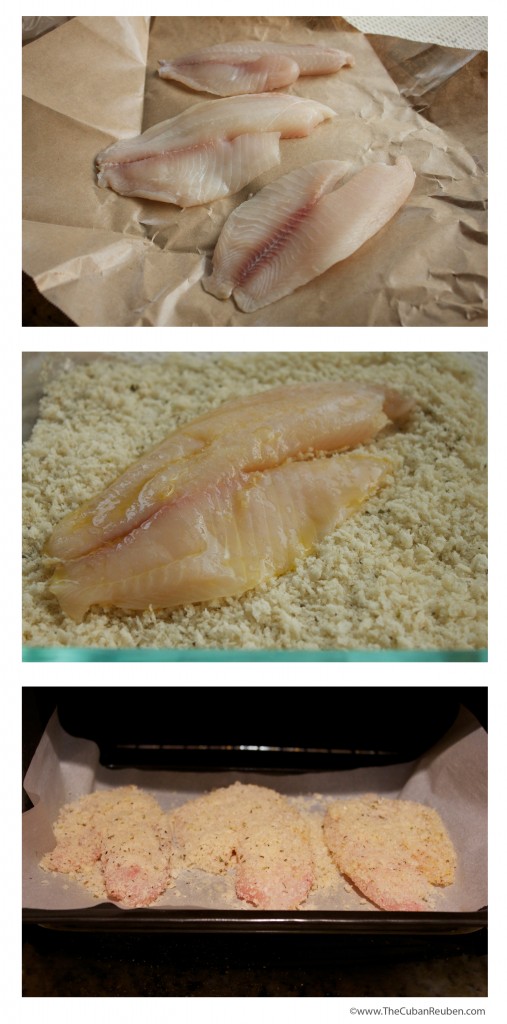 To round out and elevate the meal, I took a peek in my pantry, and decided to fancy up dinner with whole wheat bowtie pasta. (Bowties are fancy, right?) Lacking a sauce, I created my own by combining the roasted vegetables with a dollop of light cream cheese and a splash of the starchy pasta water I reserved before I drained the bowties. The result was a luxuriously creamy sauce that tasted rich, but boasted a low calorie count.
I learned to cook on the fly like this from my mom, who often created gourmet masterpieces with whatever she had on hand, and always had a name for whatever dish she concocted: Blank a la Romi, the blank being filled with whatever it was she made. If she were over for dinner last night, she certainly would have affectionately called this little number Tilapia a la Jenny.
For all you fellow non-fish lovers, I feel compelled to share that for many, many years, I wouldn't touch fish even if you paid me. I had a strong aversion to the odd texture and caustic aroma, and was always skeptical of anyone who tried to convince me that any certain fish wasn't actually "fishy." It's true that I've become better about adding fish into my diet, mostly because of  its health benefits, but I rarely enjoy it. That being said,  I polished off the third fillet and extra veggie pasta for lunch today. It was that good!
Parmesan Crusted Tilapia with Roasted Veggie Bowties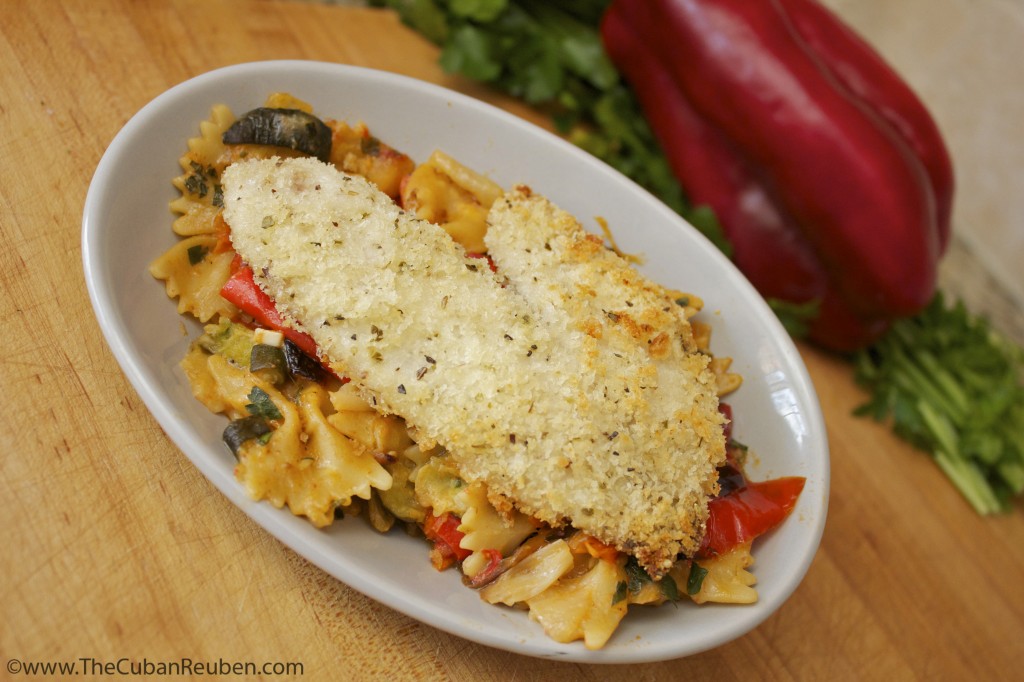 Author:
TheCubanReuben.com
Another recipe to help non-fish lovers introduce more fish into their diet.
Ingredients
For the Tilapia
3 tilapia fillets
1-2 tbs. olive oil
½ cup plain panko breadcrumbs
2 tbs. fresh grated parmesan cheese
½ tsp. garlic powder
½ tsp. dried oregano
kosher salt and freshly ground pepper
For the pasta
2 zucchini, sliced
1 large red bell pepper, chopped into large chunks
1 container of cherry tomatoes
1 large onion, chopped
3 cloves of garlic, finely minced
3 tbs. olive oil
kosher salt and freshly ground pepper
8 oz (or half a box) of farfalle pasta
2 tbs. light cream cheese
½-1 cup starchy pasta water
2 tbs. freshly grated parmesan cheese
Instructions
For the Tilapia
Preheat oven (or toaster oven) to 375 degrees.
In a shallow dish, thoroughly mix the breadcrumbs, parmesan cheese, garlic powder, dried oregano, salt and pepper.
Add tilapia fillets to a plastic bag, and drizzle with olive oil. Massage the fillets to make sure the oil coats them on all sides.
Drudge the oiled fillets in the breadcrumb mixture, and lay on a parchment-lined baking sheet. Bake for 12 minutes, or until fish is flaky and breadcrumbs have slightly browned.
For the pasta
Preheat oven to 400 degrees.
Arrange zucchini, bell pepper, tomatoes, and onion in a single layer on a baking sheet. Drizzle with olive oil, minced garlic, salt and pepper, and use your hands to thoroughly coat. Roast vegetables for 40 minutes or until they are tender and slightly browned.
Meanwhile, cook pasta according to package, taking care to reserve about 1 cup of the pasta water before draining. Add the roasted vegetables, cream cheese, and about ½ cup of the pasta water.
Stir together, and add more pasta water if the sauce is not thin enough.
Top with grated parmesan.