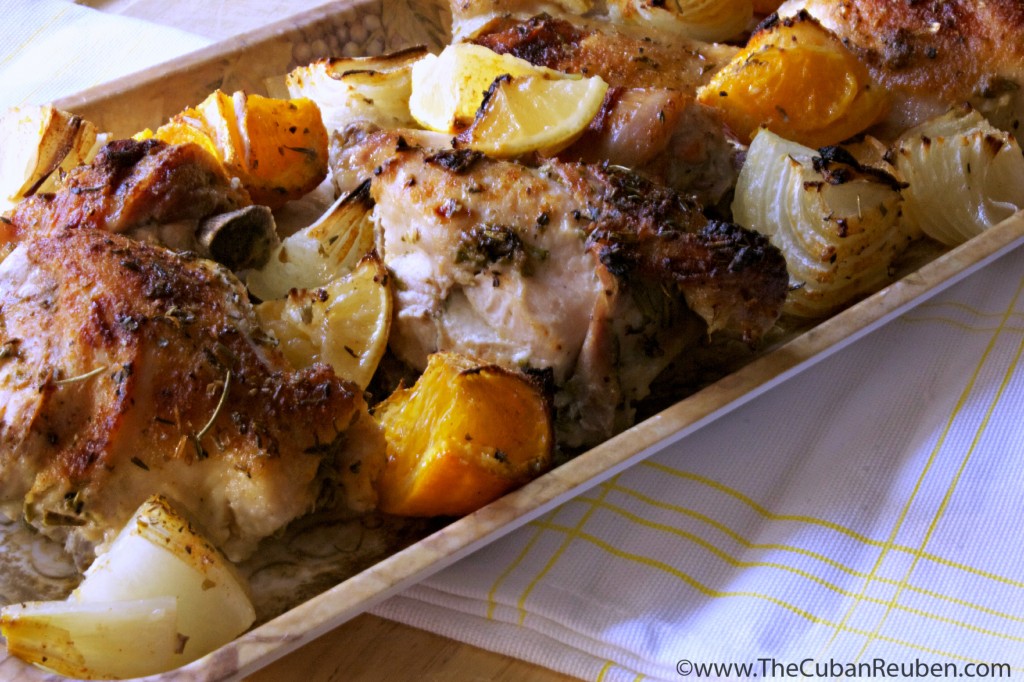 I've said it time and time again. During the week, if it takes more than 30 minutes for me to whip dinner together, I'm not interested. It's the weekends where I get to experiment, test my chops, and really try new things in the kitchen. I look forward to my weekends, and let's face it, so do my husband's taste buds.  Last weekend, however, I was in no mood for Iron Chef: The Cuban Reuben Edition. I wanted something that was a new twist on the familiar. Something not too complex, but with over-the-top flavor. Something that wouldn't take all day to cook, but would impress my husband.
With my Citrus and Herb Chicken recipe, I cooked up a dish that encompasses exactly that.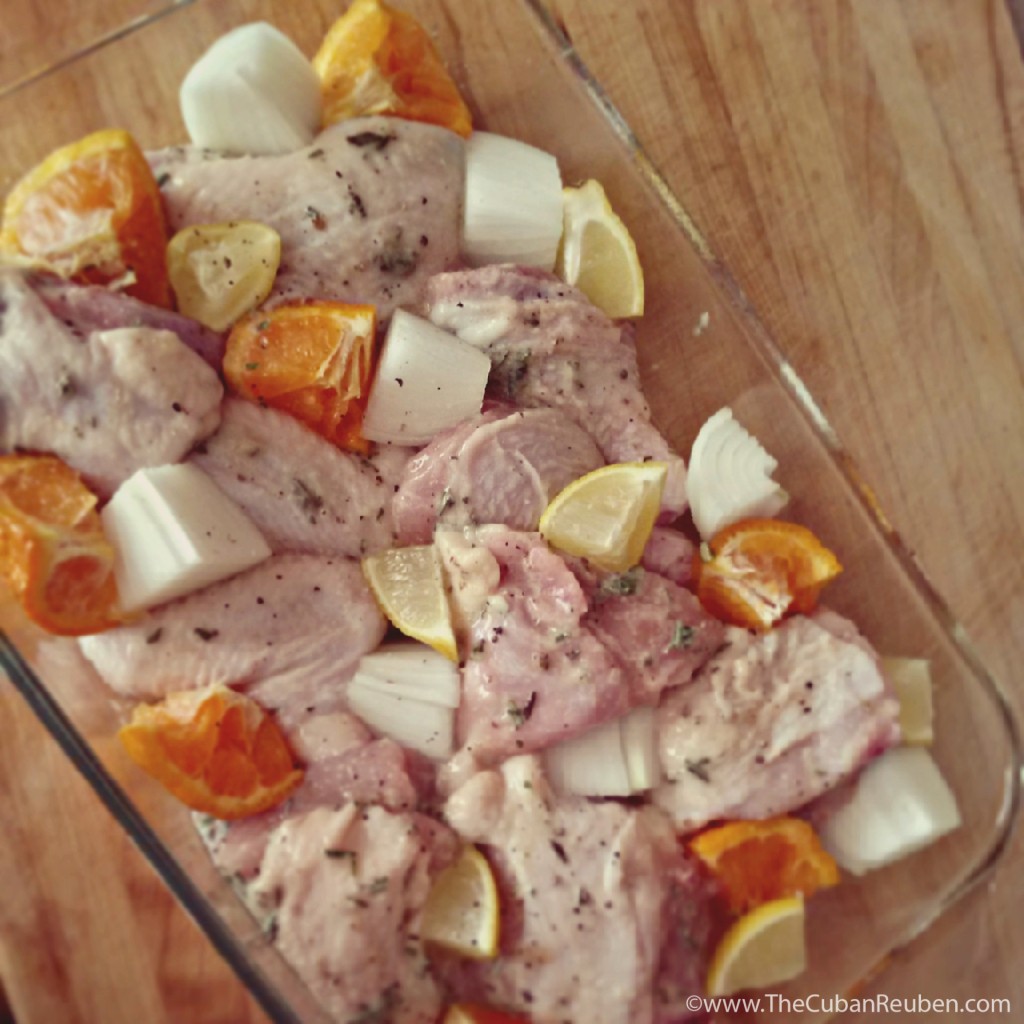 Essentially, I took a peek in the fridge, cranked up the oven, let her rip, and an hour later, dinner was ready. This meant that the better part of my Sunday was spent relaxing and gearing up for the week ahead. And sometimes, that's just what we need after a particularly trying week.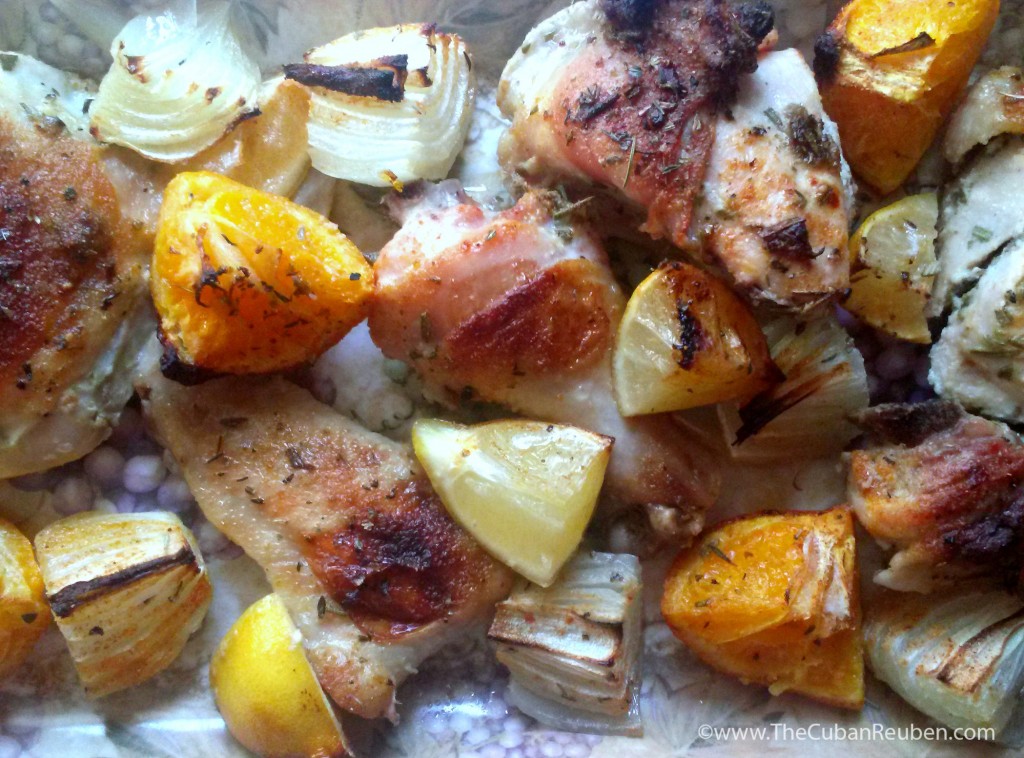 For this recipe, I used a whole chicken that was cut into pieces, and surrounded it with some of my favorite flavors from the kitchen. Aromatic herbs, pungent garlic, sweetly acidic citrus, salt and pepper were all that were needed to round this dish out. And let me tell you that something truly magical happens when you roast oranges and lemons. Their sugars caramelize in the most glorious way, and their juices help keep the meat moist and flavorful.
Let's just say that I'll definitely be adding this Sunday supper to the rotation, and I'm pretty sure I won't be hearing any complaints from the hubs.

Citrus and Herb Chicken A La Jenny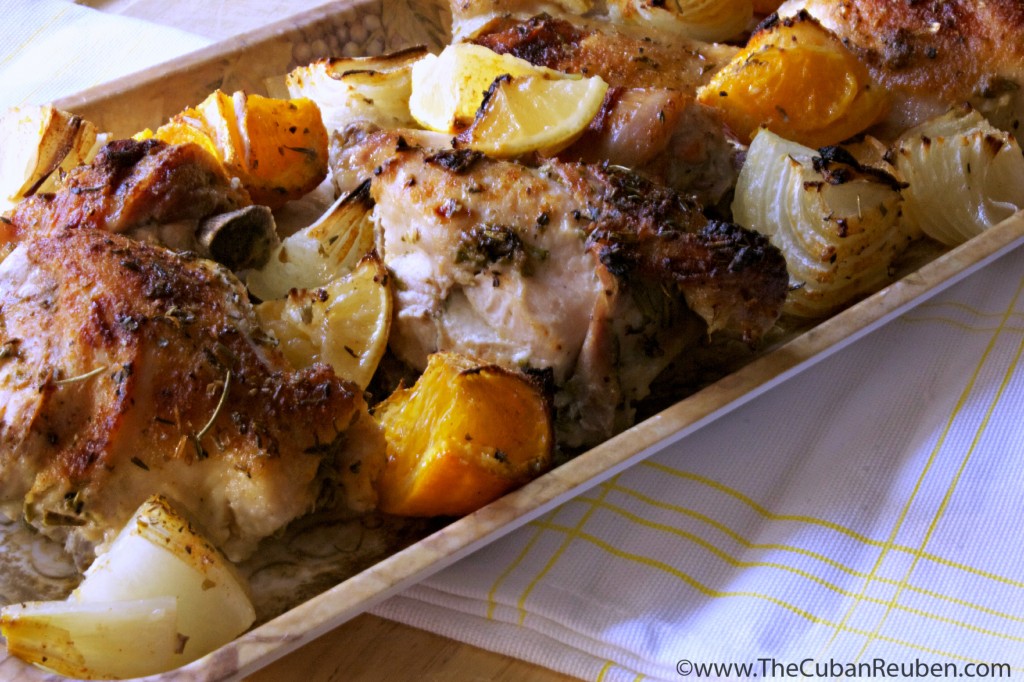 Author:
TheCubanReuben.com
Perfect Sunday supper for friends and family, this crowd-pleaser is a real keeper.
Ingredients
1 4 lbs. chicken, cut into pieces (or 4 lbs. of chicken pieces)
5 cloves garlic, finely minced
2 sprigs rosemary, leaves removed and finely minced
2 Tbs olive oil
Kosher Salt
Fresh ground Black Pepper
1 large onion, cut 8 sections
1 large orange, cut into 8 sections
1 lemon, cut into 8 sections
Instructions
Preheat oven to 400 degrees.
Combine garlic, rosemary, olive oil, salt and pepper, and make a paste. Rub the paste on the chicken pieces, massaging and making sure to get it under the skin.
In a large baking dish, arrange the chicken in a single layer. Add the onion, lemon, and orange pieces, filling in any holes between the chicken pieces, and squeezing the juice from the citrus onto the chicken as you go.
Bake for 50 minutes-1hour, or until chicken is browned and cooked through.