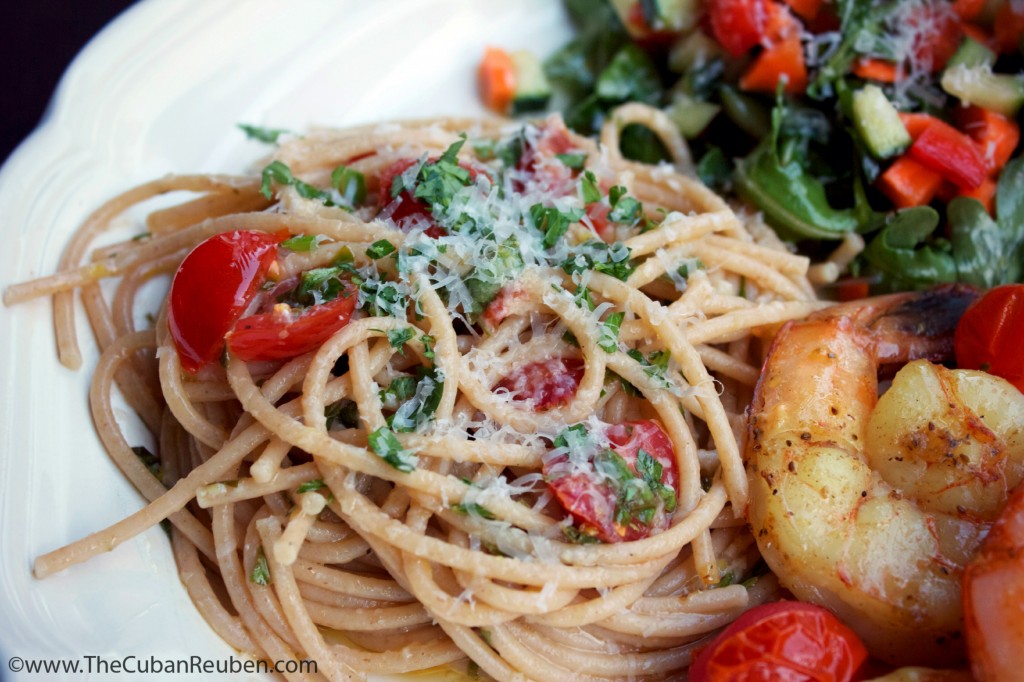 With such a passion for cooking, I am often asked what a typical meal in my house looks like, and where I find inspiration for my daily dishes. As I've said before, during the work week, if it takes longer than thirty minutes to prepare, I'm not interested. Spoiled by the Southern California sunshine, oftentimes this means firing up the grill for some marinated chicken and vegetables. Of course, there are only so many different marinades for chicken, and once in a while, I have a hankering for something different.
Recently, while pondering what to make for dinner that night, I spotted a facebook post from my fellow foodie, Noah, who I met producing student theatre for the Jewish Theater Ensemble at Northwestern many moons ago. So inspired by his plate of shrimp, pasta, and salad, I set out to recreate my own version, and headed to the market on my lunch break for the ingredients.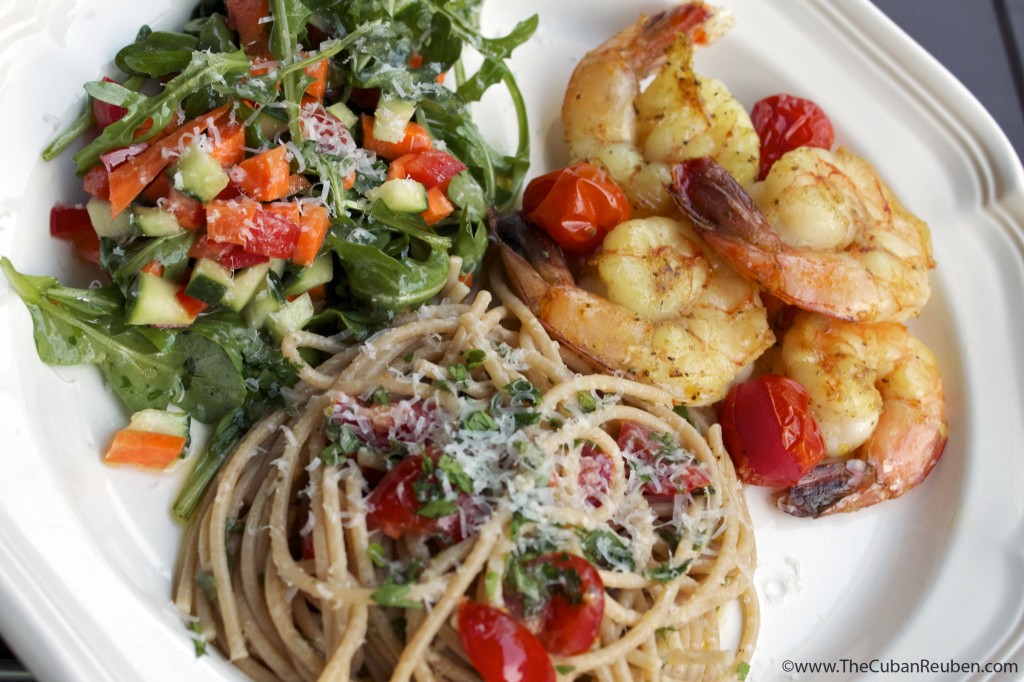 The moment I got home from work, I threw the shrimp in the oven, pulled together a simple salad, and prepared an herbaceous and aromatic salsa cruda for the pasta that was boiling in the pot of salty water. Once the pasta reached perfect al dente texture a few minutes later, I added it to the bowl of the salsa cruda, which perfectly warmed the sauce, and dinner was on the table in no time flat. Of course, I had to share a photo with Noah, the man who inspired it all. With his emphatic thumbs up, I now had a new recipe to add to my weekday repertoire. I look forward to the day Noah comes to visit and together we can cook the dish he inspired. Until then, our virtual tag-team cooking will do the trick…especially if it means more delicious dishes like this one!

Spaghetti with Salsa Cruda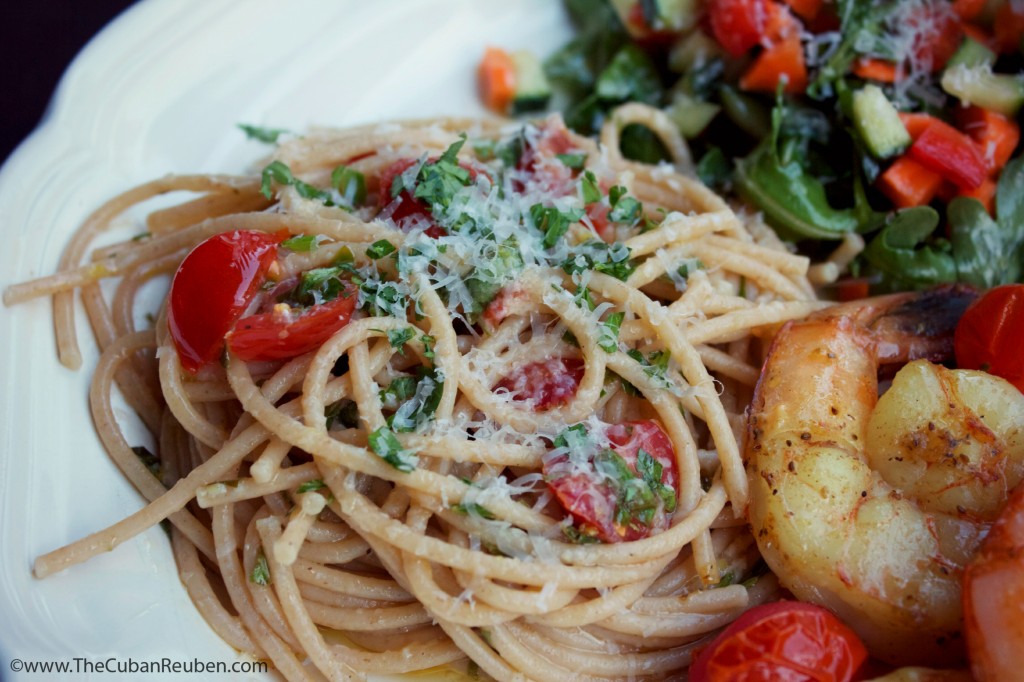 Author:
TheCubanReuben.com
A quick, fresh, Summery dish that is perfect for dinner for two.
Ingredients
¼ Lbs. dried whole wheat spaghetti
1 lemon, juiced and zested
1 large clove of garlic, finely minced
3 Tbs. chopped fresh Italian Parsley
3 Tbs. chopped fresh basil
1 cup cherry or grape tomatoes, roughly chopped
3 Tbs. extra virgin olive oil
Kosher salt
Freshly ground black pepper
Freshly grated parmesan cheese to taste
Instructions
In a large pot of salted boiling water, cook spaghetti according to the directions on the package, or until pasta is al dente.
In a separate bowl, combine the juice and zest of the lemon, garlic, parsley, basil, tomatoes, olive oil, salt and pepper, and stir to combine.
Once pasta is cooked to al dente, reserve 1 cup of the pasta water, and drain the pasta. Add to the bowl with the salsa cruda, and use kitchen tongs to incorporate the sauce into the pasta. If needed, add 1 tablespoon of the pasta water at a time to the sauce.
Top with freshly grated parmesan, and serve.