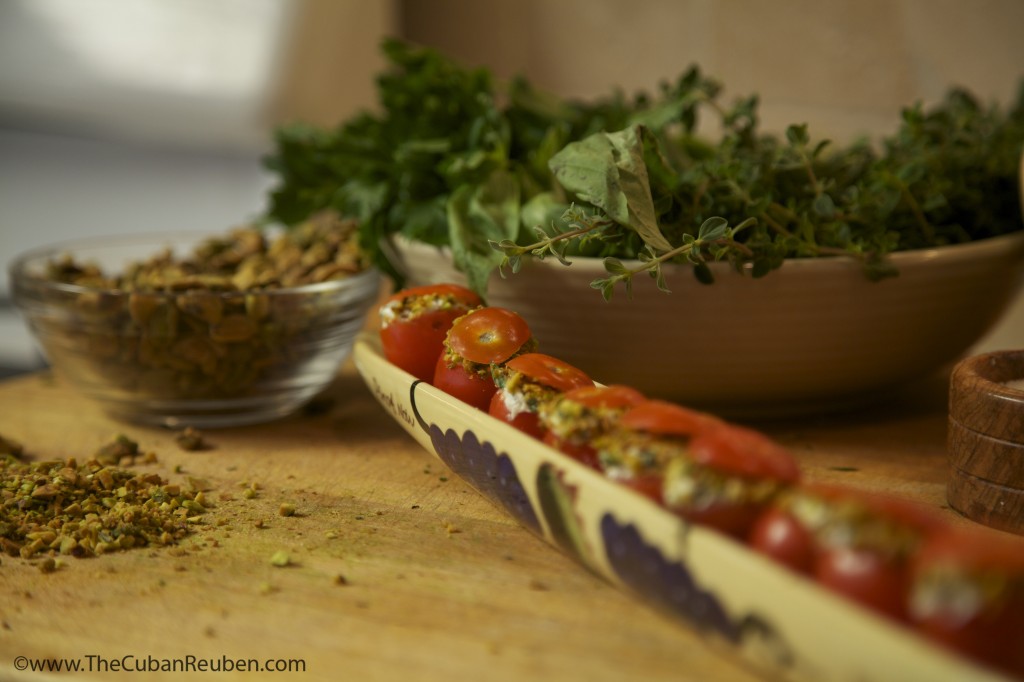 When Producer Hayley asked me to whip together a simple appetizer that was super yummy and looked impressive for episode 2 of Office Eats on #COIN, I knew just the thing: my Herb and Cheese Cherry Tomato Bites. My mom started making ones similar to these for dinner parties long, long ago, and I quickly adopted and adapted them for girls' night with my friends. They are the epitome of finger foods, and are perfect with a nice glass of wine.
After we shot this episode, Justin Janowitz, our super-talented director of photography (dp), caught me doing a little snappy snap of the camera for my beloved blog. Of course, I knew I wasn't going to let this fast, fun, and delicious recipe go without featuring it here.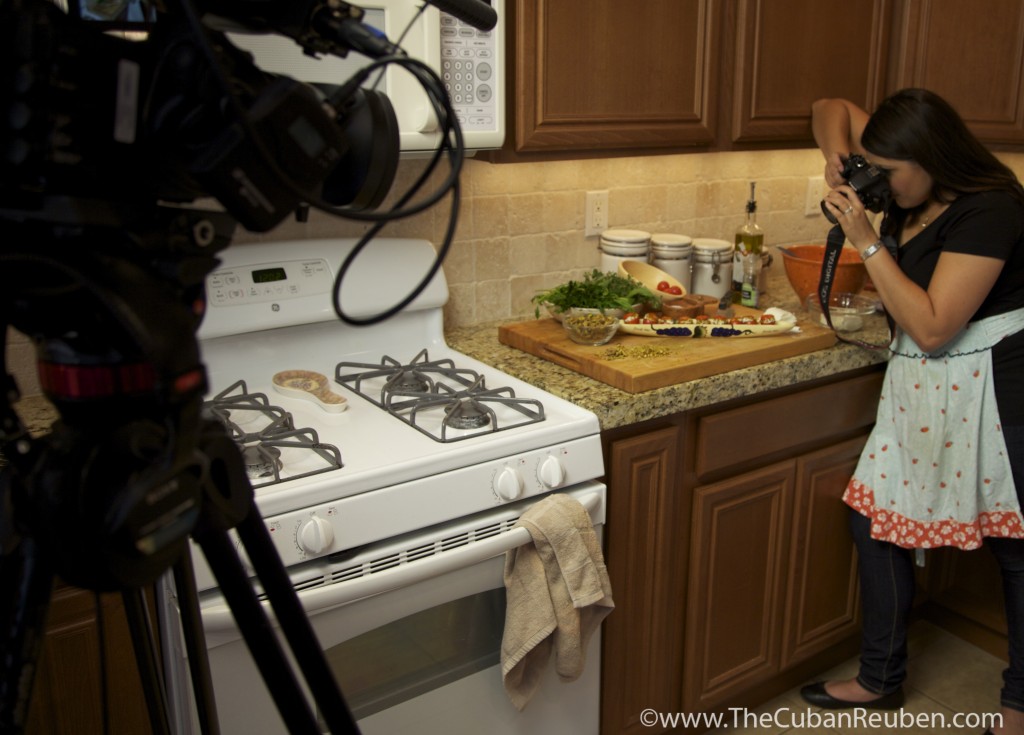 Although I was a little self-conscious of my novice photography skills amongst the company of professionals, I used the opportunity to ask Justin and the rest of the team some questions about shooting and lighting food. After all, it isn't every day that I have a full production crew in my kitchen!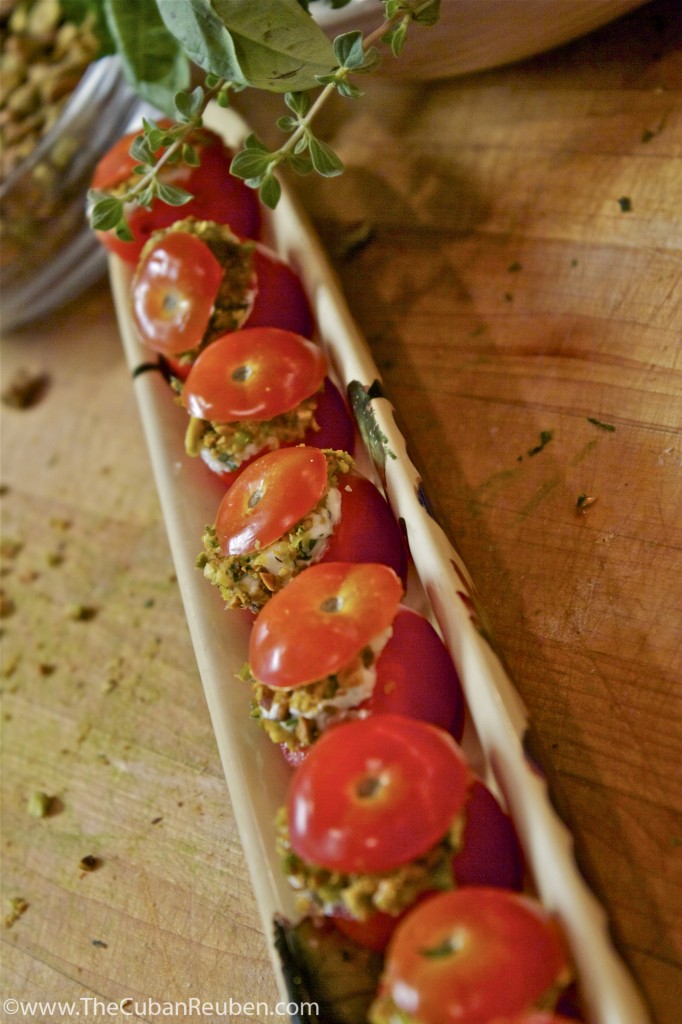 They were quite generous with their advice, and I was able to get some nice shots that I was proud of. I learned a little about styling, lighting, and even a thing or two about my own camera.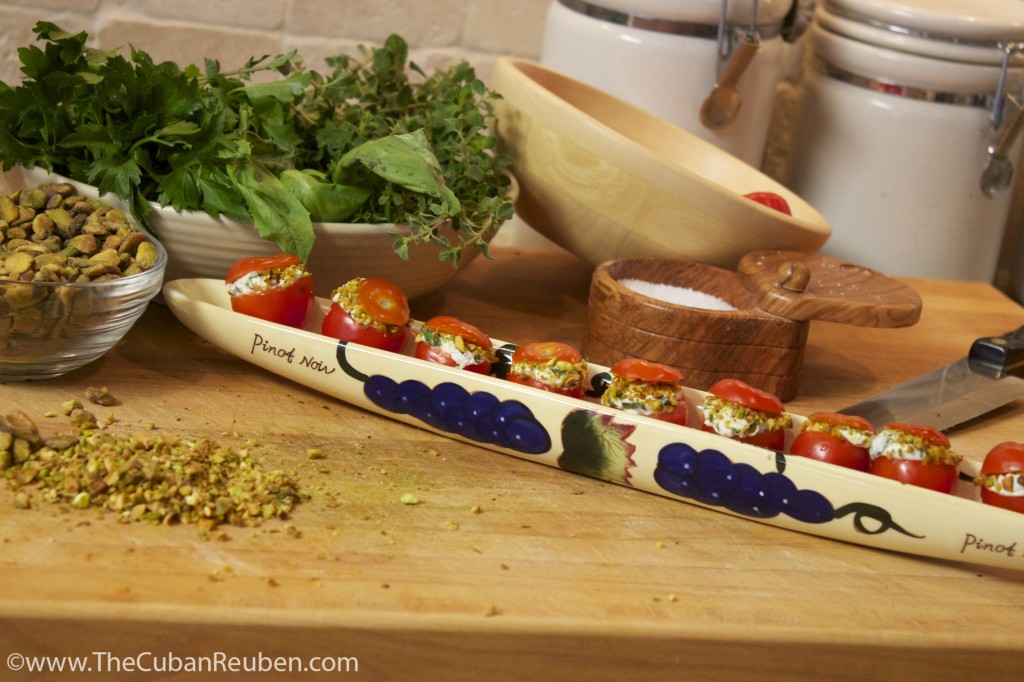 And while my photography skills are still novice-level, I'm always happy to learn new tricks of the trade.
Click here to check out the second episode of Office Eats.

Herb and Cheese Cherry Tomato Bites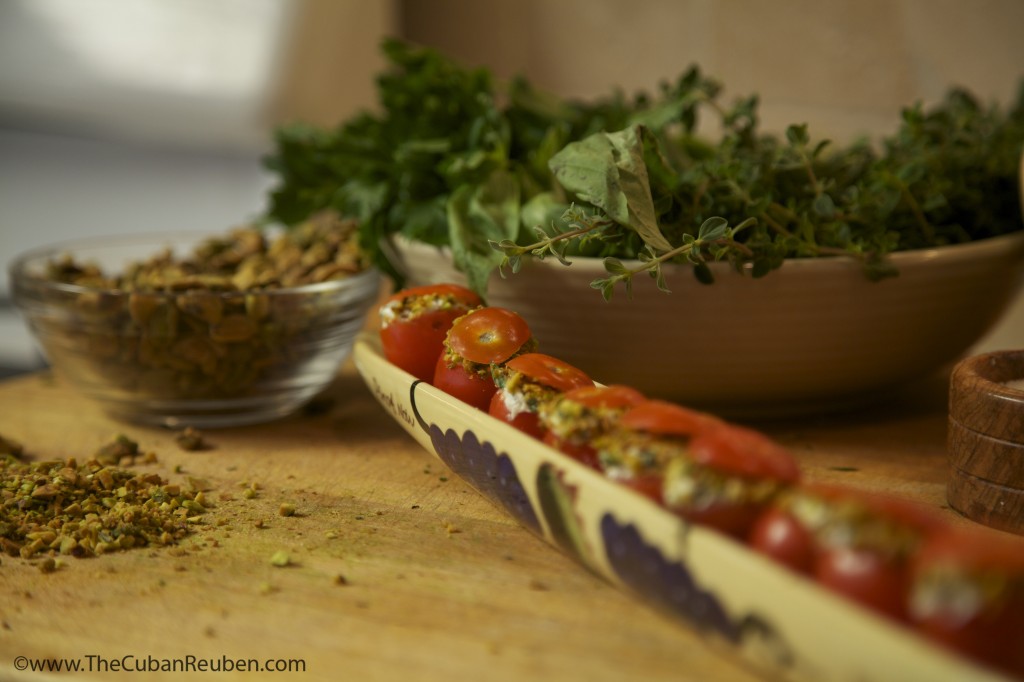 Author:
TheCubanReuben.com
Perfect bite-sized dish for a last-minute party with friends.
Ingredients
1-2 Tbs. fresh Italian parsley
1-2 Tbs. fresh basil leaves
1 Tbs. fresh oregano leaves
2 oz goat cheese
¼ cup cream cheese
Freshly ground black pepper
1 pint fresh cherry tomatoes
3 Tbs. chopped pistachios (optional)
Instructions
Chop the parsley, basil, and oregano, and place in a small bowl. Add the goat cheese, cream cheese, and freshly ground pepper, and stir to combine. Put the cheese/herb mixture in a small ziptop plastic bag, and set aside.
Cut off the tops of the cherry tomatoes, and hallow out the main part (careful not to puncture the skin).
Cut the tip off the plastic bag with the cheese mixture, and pipe the filling into the hallowed tomatoes,
Roll the cheese-exposed part of the tomato in the pistachios, add the top of the tomato back on, and place on platter.
Serve or refrigerate for later.