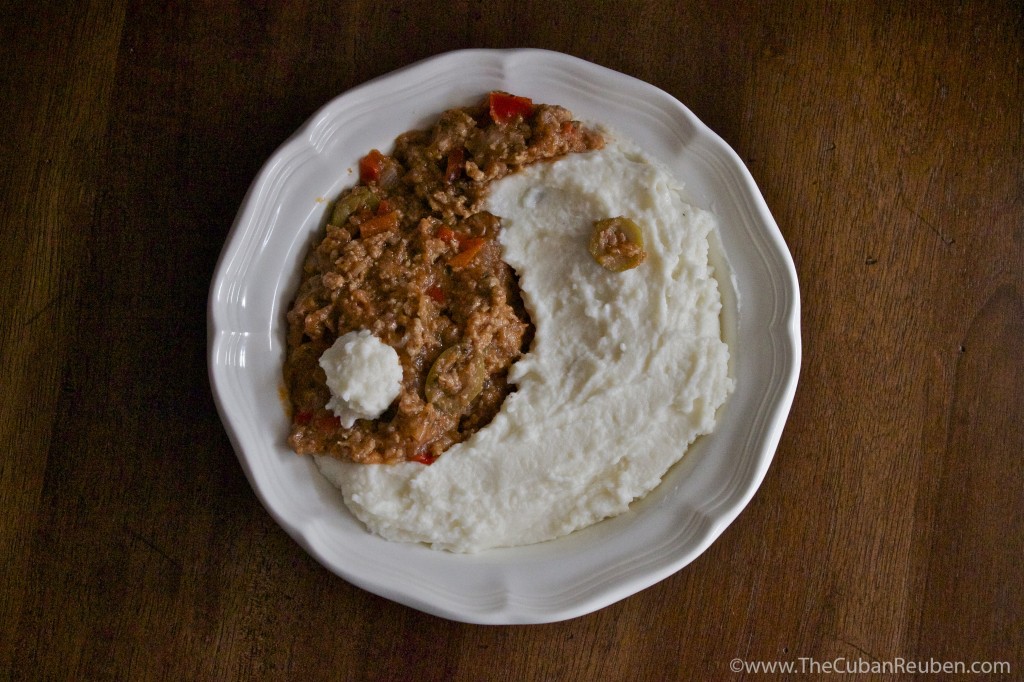 Like most Cuban food, when picadillo is presented as a main dish, it is usually plated alongside white rice, which serves to mop up the saucy overflow. However, shortly after we got married, I noticed my husband staring uncomfortably at the mound of rice left to eat on his plate at the end of dinner one night. When I asked if there was a problem, he responded that he was "too full" from the rest of the mouthwatering meal I prepared that evening to stomach finishing the rice.   As newlyweds, we're often told that the first year of marriage is the hardest, and it was clear that my husband was trying not to stir the pot. It occurred to me that he might not be a huge fan of plain white rice. The next day, I planned to make picadillo for dinner, and knew he would love it, but wouldn't give it a fair try if I served it with rice. So I set out to find a more suitable companion for this dish. True to his Midwestern roots, I knew my husband favors a diet rich with meat and potatoes. Also, potato balls, which are essentially a ball of mashed potatoes stuffed with picadillo, breaded and fried, are one of his favorite Cuban snacks. So, if I made a batch of my irresistibly creamy, Garlic Parmesan Mashed Potatoes, and served them alongside my picadillo, it would without a doubt please him. Sure enough, at dinner the next night my husband was inducted into the clean plate club, and I inched closer towards winning the award for wife of the year.
Classic picadillo is made with ground beef, but in an effort to lighten things up, my family swapped in the much more figure friendly turkey long ago. After trying our flavor-packed version, nobody has ever called us on our alternative ways, and for quite some time, this substitution remained a family secret. Even the naturally driest cut of turkey breast surrenders to the tenderizing ways of a low and slow simmering tomato-based bath, making Turkey Picadillo a stand-by, go-to protein in our house while I was a child. It also serves as the filling to many of Cuban cuisine's most treasured snacks, including empanadas, meat pies, potato balls, and more.
This dish represents the essence of my Cuban influence melding with that of my meat-and-potatoes eating Midwestern husband's. It's the meet-me-in-the-middle compromise I was told I'd get used to making when I got married. This peacekeeper, Gandhi-style of cooking is one I particularly love experimenting with, as it presents a fun culinary challenge for me to find perfect pairings for the recipes from our respective sides.
Turkey Picadillo with Garlic Parmesan Mashed Potatoes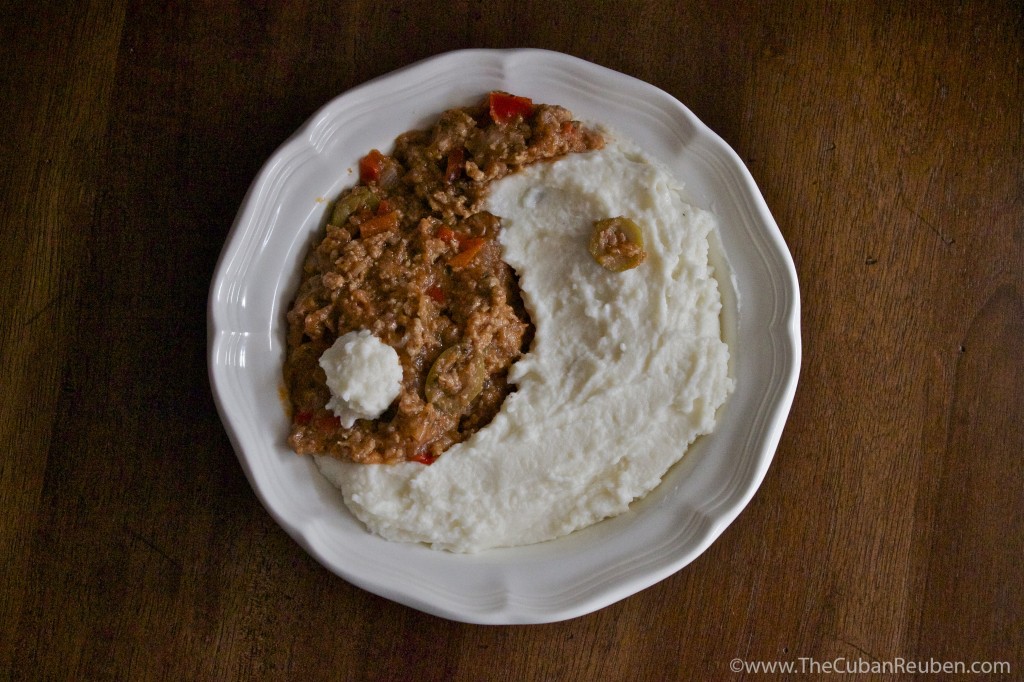 Recipe type:
Main and Side
Cuba meets the Midwest with this culture-clashing dish.
Ingredients
Picadillo:
2 tbs. olive oil
1-1½ lbs. ground turkey
1 large onion, diced
1 red bell pepper, diced
5 cloves of garlic, finely minced
1 8oz can tomato sauce
8oz water
¼ cup green olives with pimento, sliced (including the juice from the jar)
1 tbs. oregano
2 tbs. cumin
2 dried bay leaves
salt and pepper
Mashed Potatoes:
3 russet potatoes, peeled and cut into 1-inch pieces
1 onion, finely diced.
4 cloves garlic, peeled and smashed, but whole
¼ cup grated parmesan cheese
¼ sour cream
⅛ cup half and half
salt and pepper
Instructions
Picadillo
Place a large pot on the stove over medium to high heat, and add the olive oil, letting it warm.
Add the onions, bell pepper and garlic, and cook until onions and peppers are soft and translucent, about 5 min. Season with salt, pepper, cumin, and oregano.
Add the ground turkey, and using the bottom and back of a wooden spoon, break up the turkey into small pieces as it browns.
Add the tomato sauce, and fill the can with water, adding that to the pot, as well.
Add the olives and olive juice, and stir well.
Throw in the bay leaves, cover the pot, and simmer for ½ an hour to an hour, or until the turkey is soft and the liquid has reduced by about half.
Serve with rice or mashed potatoes.
Garlic Parmesan Mashed Potatoes
Fill a large stock pot with cold water, and add the potato cubes, onion and garlic. Heat the pot over high heat, and add salt to flavor the water.
Once the water starts to boil, cook until potatoes are fork-tender.
Drain the contents of the pot in a colander, and using a potato ricer, rice the potatoes, onions and garlic into the now empty pot.
Return the pot to the stove over low heat, and stir in grated parmesan, sour cream, and half and half. Add salt and pepper to taste.
Serve immediately.