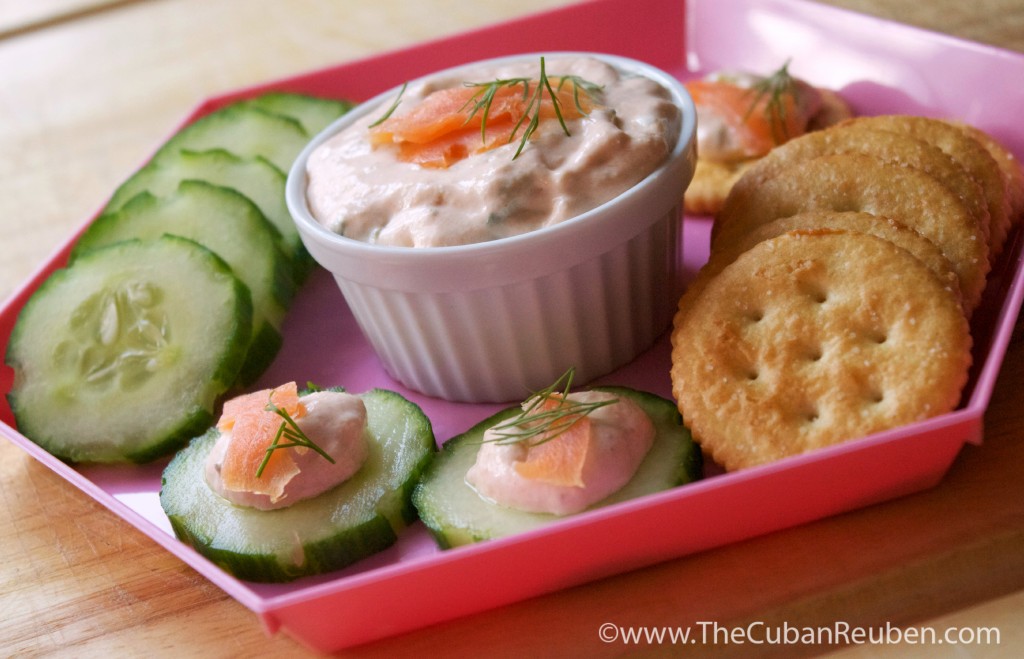 A few months ago, Kenny and I found ourselves with a rare window in our calendars, and decided to visit some friends and family we have in the picturesque Pacific Northwest. We had been to Seattle together a few years before, but never during the harsh winter months. I wasn't quite sure what to expect, though I imagined it wouldn't be as rough as the negative windchill I experienced for several winters in Chicago.
We took in the sights, and I even got a little taste of the 'burbs where my cousins live. We spent some time tasting the various wines that are locally produced (who knew Seattle had their own wine country?), and Kenny did a little skiing (when he wasn't busy fighting the cold virus that managed to attack him). But for me, one of the great highlights of this trip was the afternoon my friend, Kristen, and I spent on a food tour of the famous Pike Place Market.
It was a cool, gray day, and I took my time strolling through downtown Seattle from Kristen's apartment to our designated meeting spot. Kristen and I met up with the rest of our tour group at a tea shop at the end of the market, and our enthusiastic guide, Penny, welcomed us with freshly made mini doughnuts to enjoy with our samples of tea. After a few icebreakers and getting to know our tour-mates a little, Penny, a ray of sunshine on this otherwise gray day, guided us through the ins, outs, arounds, and unders of the market. I always thought the market was just the stretch that contains all of those produce and fresh fish stands, where the mongers toss slippery salmons across the way to patrons awaiting the catch with newspaper pages. I was so wrong!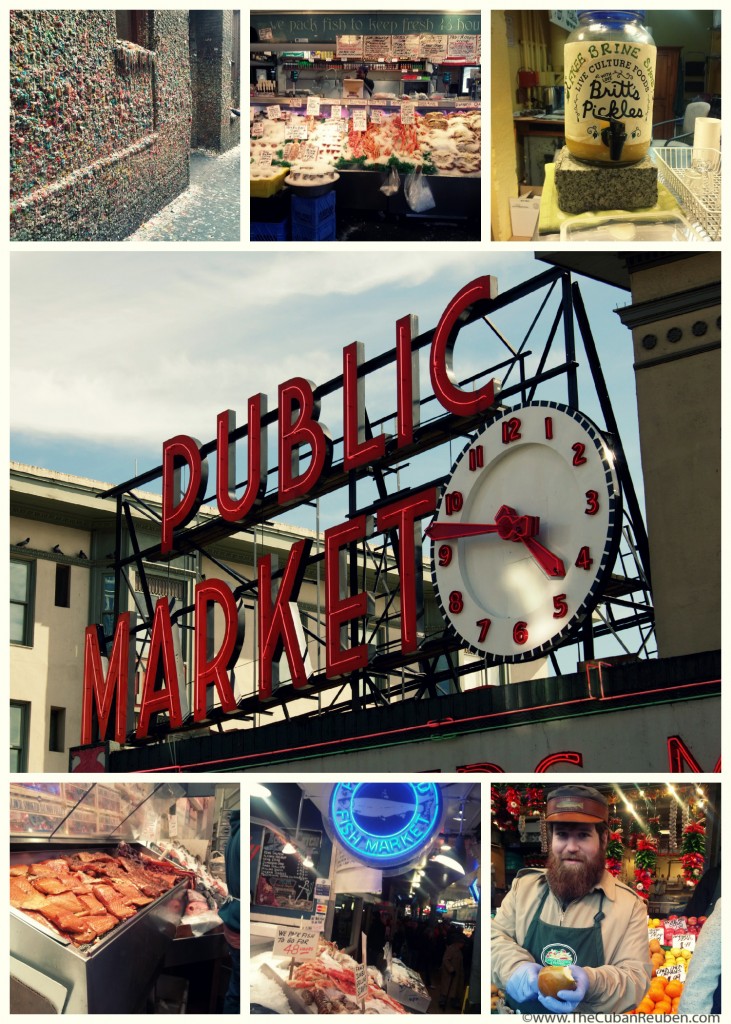 Thank goodness for Penny! She took us through the alleys where we saw the most disgusting yet interesting wall of gum (yes, it smells like mint as you walk by), introduced us to the local business owners, and educated us about the history not just of the market, but of greater Seattle, as well. A history lesson through food? Now that's something I can get behind. We noshed our way through the charcuterie at an Italian market that rivaled those I saw on my Italian honeymoon, devoured freshly made gelato of varying curious yet delicious flavors, paid homage to the motherland with crumpets and honey, puckered our mouths to the salty shots of pickle brine (divine, by the way), crunched down on dried and fresh fruits, followed our noses through the truffle store, warmed our souls and our bellies with hot clam chowder, and of course, this being the Pacific Northwest after all, there was no shortage of seafood.

Penny took us to two different stops that featured varying types of salmon treats, and since I'm always up for trying new things, I did take a bite of the smoked salmon. You know what? It wasn't half bad. Everyone else devoured it, as it is the "best smoked salmon under the sun." (What sun? We're in Seattle…) At the second location, Penny offered up some tasty looking salmon cakes to the group, but surprised me with a bite of spice-rubbed turkey breast. Now that was REALLY good, and I can only imagine how good that salmon cake must have been.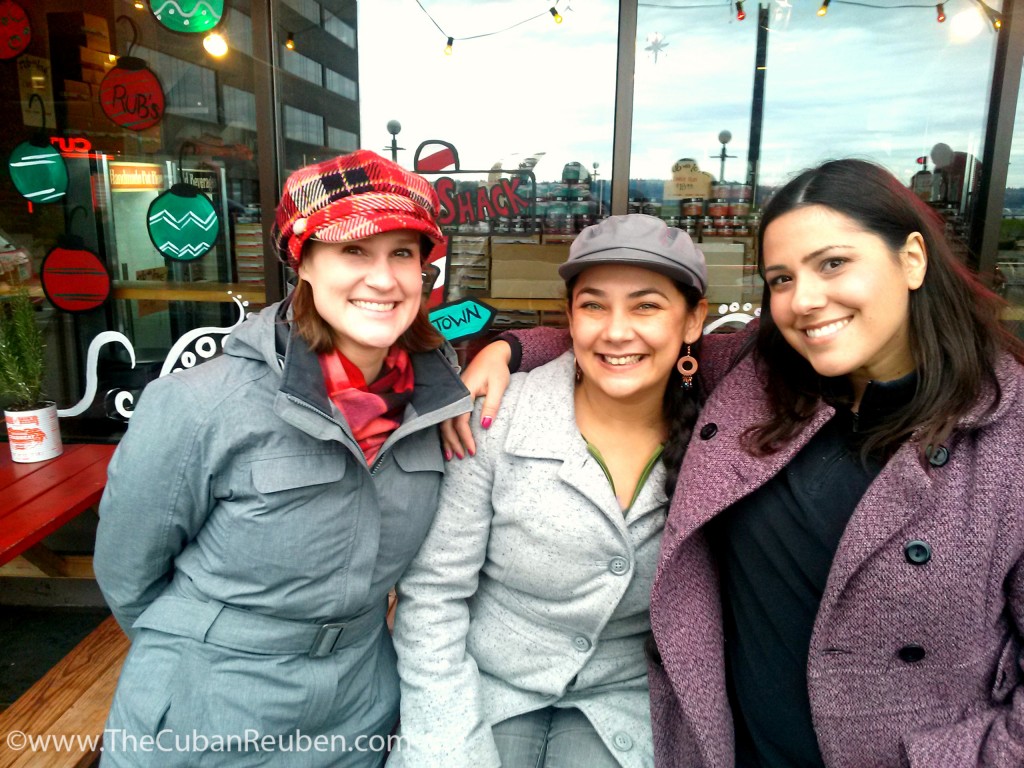 But just to show that I can roll with the Seattle Seafood punches, I created a recipe of my own using smoked salmon. It calls not just for lots of smoked salmon, but also many of the accoutrement  you'd usually find served alongside it, like cream cheese, and even capers.
I may not get to Seattle often, but from now on, when I serve this dip, I will remember my afternoon with Penny and Seattle Food Tours, fondly.

Smoked Salmon Dip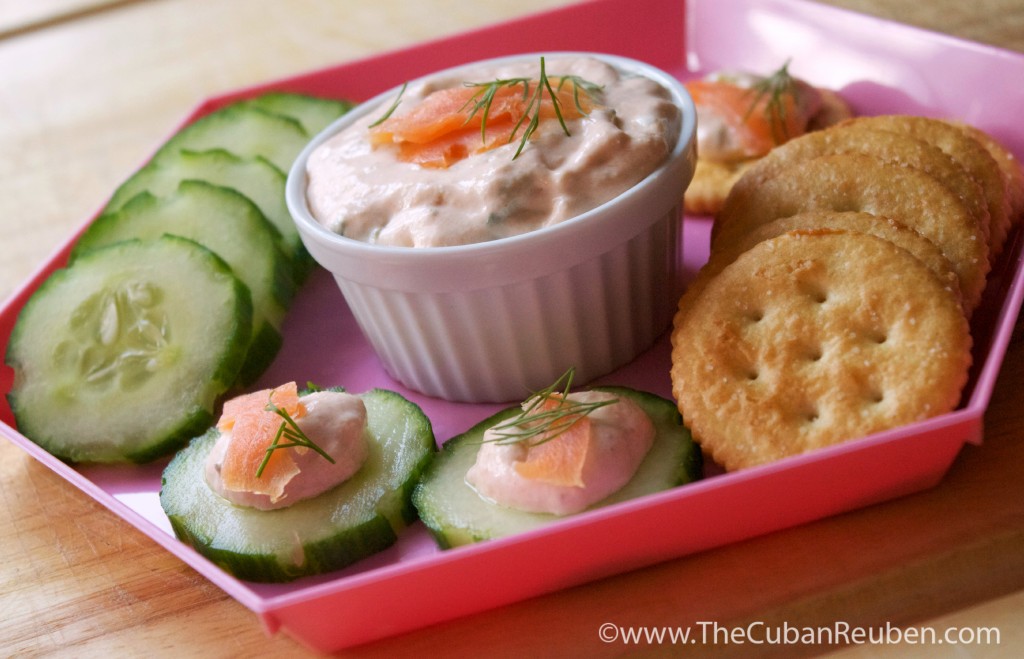 Author:
TheCubanReuben.com
Take a bite of the Pacific Northwest with this Smoked Salmon Dip
Ingredients
6oz Smoked Salmon
8 oz cream cheese, softened
2 Tbs sour cream
½ lemon, juiced
1+ Tbs of capers, drained
1 tsp of Sriracha sauce (or any hot sauce of your liking)
1 Tbs fresh dill, chopped
Kosher salt and Fresh ground black pepper
Cucumber slices and/or crackers to serve
Instructions
Combine salmon, cream cheese, sour cream, lemon juice, capers, Sriracha, dill, salt and pepper in the bowl of a food processor, and pulse until incorporated.
The dip can be made smooth or chunky, depending on desired consistency.
Place dip in a bowl, cover with plastic wrap, and chill in the refrigerator until ready to serve.
Serve with cucumber slices and/or crackers.